Revision Rhinoplasty in New Jersey & Philadelphia
Revision rhinoplasty is a secondary nose surgery that corrects the results of a prior procedure or aims to offer further benefits. Our experienced, board-certified experts can help you feel at ease and give you confidence about moving forward. Call our offices in Philadelphia or New Jersey to schedule a revision rhinoplasty consultation today.
A rhinoplasty is a procedure that is designed to improve the appearance and/or function of a patient's nose. This is not an easy task—rhinoplasty is one of the most complex plastic surgeries available and things don't always go to plan. That's where revision rhinoplasty with the experts at Becker Plastics in Philadelphia and New Jersey can help.
What is Revision Rhinoplasty?
Revision rhinoplasty is a secondary nose surgery that corrects the results of a prior procedure or aims to offer further benefits. It is a challenging procedure as the surgeon must preserve the nose's functionality while making the aesthetic changes you desire. Existing scar tissue from the previous procedure makes the surgery even more difficult.
Your nose is more complex than you think. The nasal cavity is a kind of hub for your sinuses and plays an important role in breathing. If there is any obstruction, it can be difficult to breathe easily and comfortably.
The nasal septum is a combination of bone and cartilage that ends with your nostrils. An internal coating known as the mucous membrane contains many small blood vessels. This vibrant ecosystem is intertwined and sensitive to the slightest change.
An experienced plastic surgeon can make the necessary alterations to your nose while ensuring that everything continues to work as it should. The challenging aspect of revision rhinoplasty is providing optimal results while using the previous rhinoplasty as a starting point. A good aesthetic result depends on your surgeon's skill and ability to preserve nasal function while creating the desired look.
Good Candidates for Revision Rhinoplasty
The reasons people choose to have revision rhinoplasty span from cosmetic to functional. If you're not happy with your appearance, experience difficulty breathing, or an accident has transpired since your first surgery, you may want to seek revision rhinoplasty. In terms of whether or not you're a good candidate, if you've had rhinoplasty in the past, chances are good that you will be eligible for a revision.
Keep in mind that changes in your health since the previous procedure may complicate matters. If you've developed heart disease, high blood pressure, diabetes, or other severe ailments, your doctor may advise against the surgery. In any case, you will undergo an examination that will help your surgeon decide if it's safe to proceed.
Revision Rhinoplasty Procedure
Choosing a board-certified surgeon with many procedures under their belt is important in setting yourself up for a positive experience. Revision surgery is difficult, so it's important to choose a surgeon who can show you the successful results of their previous procedures.
In general, a revision rhinoplasty may cause a temporary loss of smell and side effects such as swelling or bruising. However, the techniques and technology that are used by top surgeons make revision rhinoplasty a safe procedure overall.
Patient Results
Hundreds of satisfied patients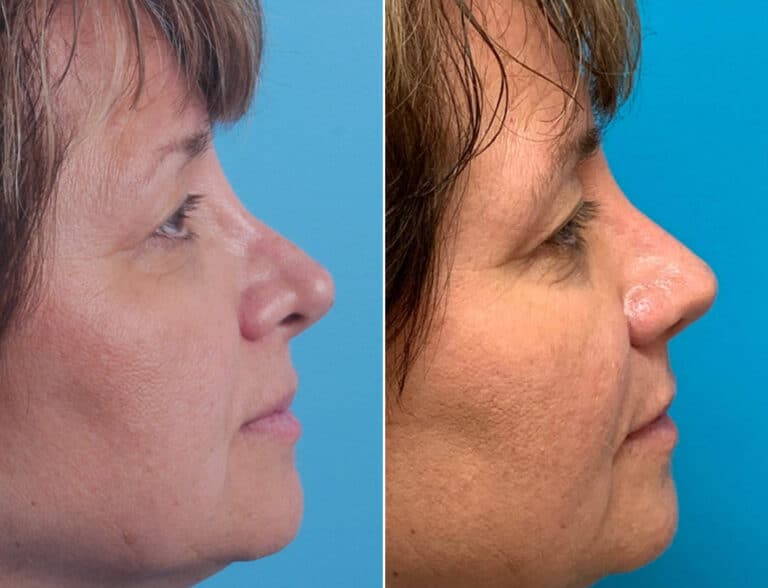 * All patients are unique and individual results may vary.
Your Revision Rhinoplasty Recovery
The initial recovery period after your revision rhinoplasty usually lasts about a week. This is when your doctor will remove your sutures and the cast. If you remember back to your first rhinoplasty, you'll know that it takes approximately six weeks for the bones in your nose to heal.
With revision rhinoplasty, full healing can take several months to a little over a year. Of course, this doesn't mean that you will be putting your life on hold for all that time. It does mean, however, that you will be checking in with your doctor to make sure that the healing process is going smoothly.
Your surgeon will discuss with you how to ease back into your daily schedule. In the first stages of recovery, you'll have to avoid strenuous activity and take care not to place any stress on your nose.
Frequently Asked Questions about Revision Rhinoplasty
Revision rhinoplasty differs from primary rhinoplasty in a few key ways. Answering a few commonly asked questions can help you understand how this procedure will differ from your first nose surgery.
When should I have a revision rhinoplasty?
The human body is a dynamic set of systems. Rarely can you have surgery and expect your body to remain unchanged in the long run.

Rhinoplasty is a procedure that may need revisiting in order to achieve optimal results. Depending on how your tissue and nasal septum adjust after the first procedure, secondary surgery may be in order.

Furthermore, life isn't constant and many unpredictable circumstances can affect your nose. An accident or a health matter can burden your breathing, causing you to seek relief.

The most important factor when considering revision rhinoplasty is whether or not your nose has healed from the first procedure. As a general rule, you'll want to wait at least a year before having revision surgery. Your surgeon is the one to give you the green light for revision rhinoplasty or to put it off for a little longer.
How should I prepare for my revision rhinoplasty?
During your consultation, your surgeon will give you detailed instructions to best prepare for the procedure. Make a note of as many questions as you can possibly think of to bring to your initial consultation. Being informed is the best way to put yourself at ease with the procedure.

If you're a smoker, you'll have to stop for at least a month before surgery as nicotine can impede healing and cause complications. Smoking also interferes with blood flow which is essential in a smooth recovery and for minimizing side effects.

For the first couple of days after your surgery, you might want to get a family member or friend to help you with everyday tasks. While it may not be necessary to have someone to assist you at home, you'll at least want to have a chaperone drive to and from the clinic.

Wearing roomy, comfortable clothes will be a great convenience on the day of the procedure, so plan accordingly. As per your doctor's suggestion, you may want to get a humidifier to be used at night for at least the first few days.
Is there a time of year that's best for having a revision rhinoplasty?
Although you can have the procedure during any season, choosing a cooler time of the year is best. This suggestion holds true for most types of cosmetic surgery for three main reasons.

Cold weather justifies wearing bulkier clothes and accessories such as hats. This will help in taking emphasis away from any bruising and swelling that results from surgery. It will also help protect your skin from the sun's UV rays. 

Colder temperatures promote healing in the body and will help you recover more effectively during those first weeks and months post-surgery. This occurs because of better blood circulation combined with reduced inflammation.

A third, and possibly overlooked reason to choose the winter months is the presence of more holidays. Thanksgiving, Christmas, and other holidays provide a convenient opportunity for taking time off work for recovery.
What side effects can I expect after the procedure?
Minor pain may surface during recovery, but your doctor will likely recommend over-the-counter pain management options. If you are more sensitive to pain, your surgeon may prescribe more potent pain medication. In any case, you will not be left to suffer during your recovery.

Bruising and swelling may appear depending on how extensive the surgery is and how your body, in particular, reacts to the procedure. It may last a few days for up to two weeks but will usually be contained to the area surrounding the eyes. Keeping your doctor up to date will help them monitor your recovery.
What revision rhinoplasty office is near me?
If you live in the states of Pennsylvania or New Jersey, Becker Plastic Surgery offers revision rhinoplasty among its services. For a full list of services, please visit our Locations page.
Schedule a Revision Rhinoplasty Consultation
If you're like most people, you might be a little nervous about trusting another surgeon with your nose. Our experienced, board-certified experts can help you feel at ease and give you confidence about moving forward. Call our offices in Philadelphia or New Jersey (Princeton, Yardley, and Voorhees) to schedule a revision rhinoplasty consultation today.
ADDRESS:
256 Bunn Drive, Suite B
Princeton NJ 08540 US
PHONE:
(609) 874-7199
HOURS OF OPERATION:
Monday – Friday: 8 a.m. to 5 p.m.
Why choose the Doctors at Becker Plastic Surgery
Nicole Schrader, MD, FACS