Facelift in New Jersey & Philadelphia
Combat the signs of aging with assurance! Choose the renowned facelift procedures at Becker Plastic Surgery. Serving Princeton, Voorhees, Philadelphia, and Yardley, we promise rejuvenation that defies time. Experience a revitalized, youthful allure that mirrors your inner vibrancy.
Rediscover Youth with Facelift Benefits
A facelift is not merely a procedure; it's a renaissance of youthful elegance. With the expertise of modern surgery, this transformative journey promises to rejuvenate and renew, offering a visage that resonates with vibrancy and confidence.
1
Revitalized Youth
Turn back the clock and unveil a fresher, more youthful you with precision facelift techniques.
2
Enhanced Contours
Refine and redefine facial lines, capturing the essence of timeless beauty and grace.
3
Boosted Self-Confidence
Radiate with renewed vigor and self-assuredness, letting your rejuvenated appearance speak volumes.
Facial aging can make it quite difficult to appear healthy, no matter how hard you are working to take care of yourself. If you appear tired and washed out or you notice that your skin looks droopy, it can be hard to take pride in your appearance. If you're considering a facelift, or rhytidectomy, in Philadelphia or New Jersey, schedule a consultation with the professionals at Becker Plastic Surgery for a conversation about facial rejuvenation, what to expect and how to prepare for the best results possible.
What is a Facelift?
Facelift surgery addresses common signs of aging by removing excess skin and tightening the underlying facial structures. It can also include removing fat, drooping skin from underneath the chin, and improving acne scars appearance.
Facial skin laxity make us look old, properly performed, our state of the art facelift will reduce sagging skin, tightens the skin and other signs of aging in the lower face and create a more youthful appearance. The entire procedure as well as the facelift for men are designed to produce minimal scarring that can be easily camouflaged within the hairline. The results are long-lasting and can also be complemented with a Chin augmentation to a achieve an even better facial balance.
Patient Results
Hundreds of satisfied patients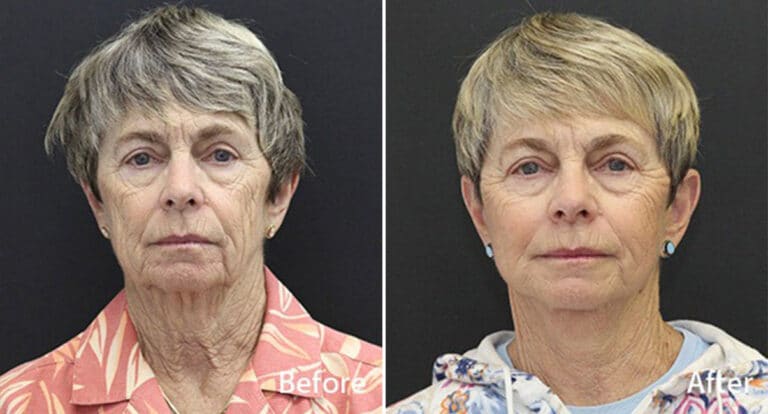 * All patients are unique and individual results may vary.
The Facelift Procedure
Once you have attended a consultation and have a thorough understanding of the facelift techniques and your candidacy, you'll be scheduled for surgery.
During the consultation process, you'll get instructions on how to prepare for the procedure itself, including medications to avoid prior to your surgery, and instructions for aftercare. Be sure to follow these steps closely, as doing so will reduce risks and promote great results.
You'll be kept comfortably asleep under general anesthesia during the procedure. Incisions will be made around your face, placing the cuts in the hairline and/or behind the ears for minimal scarring.
Once the skin is lifted, fat is extracted or redistributed, and any muscle tightening is complete, remaining loose skin will be cut away and reattached at the hairline for a smooth look with less drooping and fewer wrinkles.
Recovering from a Facelift
Experts recommend that you prepare for 30 days of recovery after your facelift. You will need help at home for the first few days after the procedure; do not plan to go home alone. There will be check-ups with your surgeon to make sure that your incision is healing well and that there are no signs of infection.
Additionally, it's critical that you don't move around more than you absolutely have to during the first 3 to 4 days after your procedure. Use ice or cooling gel packs as instructed, and make sure to stay on top of your pain meds.
If you're instructed to use cold packs, make sure you use a timer and ice for no more than 20 minutes to avoid frostbite. By the end of your first week of recovery, you may feel well enough to get up and take care of simple chores, but make sure you stay on top of inflammation.
The swelling and bruising from your procedure should start to go down 7 to 14 days after your surgery, and you may be able to go back to work at this point. You'll have an appointment to remove sutures after your first week of recovery and significant swelling may remain until week 3. Avoid makeup until after the third week as well.
After four weeks, any swelling or numbness from the procedure will be noticeable only to you. Full results should be visible in about 6 months. Following these instructions and hiding scars from facelift will be not necessary.
What's the Difference Between a Facelift and a Mini Facelift?
During a facelift, a long incision is made from the temples down in front of the ears to the neck. A mini facelift in Voorhees only requires a cut around the front of the ear and can be performed with local anesthesia. While this lift can define your jawline and reduce sagging skin, it is not as dramatic as a full facelift.
If you've been using dermal fillers and really want a more permanent fix, a mini facelift can be an excellent choice. Additionally, you may be able to have this surgery done in-office and not need to be put under full anesthetic.
Scheduling Your Consultation With Our Surgeons
If you're considering a facelift in Princeton, Yardley, Voorhees, or Philadelphia, then you may already be visiting our facility for other cosmetic procedures. Perhaps you've gotten Botox treatments to address forehead creases, microneedling to firm up the skin under your eyes, or eyelid surgeries to remove excess skin.
If you're interested in a procedure that's a bit more involved, contact Becker Plastics for a discussion about the benefits of a full or mini facelift with our board certified plastic surgeons. At that time, we can discuss any concerns you have such as if a facelift is right for you, and better understand your expectations. You deserve to be fully confident in the skilled professionals who will perform the procedure and manage your care before and after your surgery.
Personal Preparation For Your Facelift or Mini Facelift
Surgery is always a risk and deciding to undergo a facelift is a big step in support of your own confidence. To make sure that you are prepared for this procedure, it's time to make the healthiest choices possible. Take a hard look at your lifestyle; make sure you're eating well, exercising regularly, and getting enough rest before your surgery.
Having this solid base of health will make your recovery that much easier. On consultation day, please bring a list of all of the following you currently use:
Prescription medications
Over-the-counter medications
Supplements
You may need to avoid certain medications for a time prior to your surgery. If you smoke, this is your time to stop; smoking will slow your healing time and may put you at risk of infection. The time leading up to and after your facelift is the time to fully support your health.
Why choose the Doctors at Becker Plastic Surgery
Kirk Lozada, MD, FACS
Daniel Becker, MD, FACS
Nicole Schrader, MD, FACS
Pick one of our 6 convenient locations
for Your Plastic Surgery Needs
Facelift Faqs
When can I wear makeup again after my procedure? 
Give your skin two weeks. Avoid applying makeup or any other products to your incision until the sutures are removed and the skin is fully healed.
Who will change my bandages after my facelift? 
You will have a follow-up appointment just a few days after your surgery and your dressings will be changed at that time. They may be left off or replaced depending on drainage.
When will the stitches come out?
Your healing speed will determine the date of your suture removal; every recovery is different. At the latest, expect to have sutures removed in three weeks.
Should I use moisturizer? 
Apply only the products needed to keep the incision clean as you heal from facelift surgery. Avoid touching your face while the skin is healing to reduce the risk of infection.
I need a workout. How long until I can hit the gym?
Light activities at home are possible at the end of the first week, but you want to avoid heavy exercise for 30 days or more after your procedure. Sweating and an increased heart rate will not be good for your incisions.
What facelift office is near me?
If you live in the states of Pennsylvania or New Jersey, Becker Plastic Surgery offers facelift among its services. For a full list of services, please visit our Locations page.