Neck Lift in New Jersey & Philadelphia
A neck lift is a surgical procedure that tightens loose skin in the neck and chin area for a more youthful, rejuvenated appearance. This surgery may also include surgical removal or redistribution of fat and the tightening of the muscles under the skin on the neck. Contact Becker Plastics in Philadelphia, Voorhees, Yardley, or Princeton for an initial consultation.
Over time, you may notice that the skin under your chin is starting to sag and droop. Maybe aging has begun to take its toll, or you've lost a great deal of weight and now notice loose skin on your neck. No matter the source of your concerns, a consultation with the experienced plastic surgeons at Becker Plastics about a neck lift procedure may be just what's needed to restore your confidence in your appearance.
What is a Neck Lift Procedure?
A neck lift is a surgical procedure that tightens loose skin in the neck and chin area for a more youthful, rejuvenated appearance. This surgery may also include surgical removal or redistribution of fat and the tightening of the muscles under the skin on the neck.
It's important to note that there are no non-surgical techniques for removing excess skin. While non-surgical methods for fighting sagging skin, such as peels and microneedling, can work to tighten small areas of the skin by boosting collagen, the expanse of skin across the neck is simply too large to be tightened effectively by any method other than surgery.
Your neck lift at our Philadelphia or New Jersey facilities will require that you take some downtime. You will have close follow-up appointments to check your incisions and confirm that you are not at risk of infection.
How a Neck Lift Is Performed
A full neck lift will include an incision starting at the side of the face and tracing around the ear to the posterior hairline. The platysma muscle, which runs from the chin to the collar bone, may be tightened. Fat may need to be removed or repositioned, and excess skin is trimmed away.
Some who get a full neck may need a bit of fat removed via liposuction. For those who prefer a limited incision neck lift, cuts will only be made around the ear and the lift procedure will be less invasive. However, the results will be less dramatic.
Depending on your personal medical status, history, and preferences, you will either be given a local anesthetic and sedation for the procedure or receive a general anesthetic. No matter the ultimate format of your procedure, you will be fully informed of the steps needed to prepare for your surgery.
Prepare for a Safe Recovery After your Neck Lift Surgery
Our staff will give you detailed instructions on what to do before and after your procedure when you come in for your consultation prior to surgery. In addition to proper surgical preparation, you'll want to plan ahead to reduce post-surgical swelling, possibly including purchasing a compression bandage and supplies to properly ice the area to keep inflammation down.
Additionally, the decision to undergo any form of plastic surgery is a big step. You're making a huge investment in your appearance, which can have a long-lasting impact on your confidence. In addition to being happy with the look of your neck and jawline, now is the time to focus on other aspects of your overall health.
Consider other adjustments that will also boost your confidence. Find an exercise regimen that you love and make time for it each day. Focus on dietary changes that include lots of brightly colored vegetables and fruits to keep your antioxidant intake high, particularly foods high in Vitamin A and Vitamin C. Choose lean meats or other reduced-fat sources of protein to rebuild healthy tissues.
If you smoke, take the steps necessary to stop before your surgery; not only is smoking hard on your lungs and heart, but the toxins in cigarettes get in the way of the healing process. Finally, make sure that you stay fully hydrated as you recover from your procedure.
Schedule Your Neck Lift Consultation
Choosing to undergo any form of surgery that will increase your confidence and change your appearance can be very intense. You may be worried about your recovery, concerned about the risk of scarring, or just plain excited to feel better about how you look.
Your consultation with the physicians at our facility can help to lessen your concerns about the procedure overall, help you to fully understand exactly how your results will appear, and allow you to prepare and recover fully.
It's important to understand that, no matter how excited you are about your neck lift in Princeton, Yardley, Voorhees, or Philadelphia, your body will treat this incision as a wound. For best results, you must make time to recover fully, follow all instructions regarding rest, ice, and compression, and keep all follow-up appointments.
Why Choose Becker Plastics?
Your health, appearance, and confidence are too important to leave to chance. By planning your procedure with Becker Plastics, you will be in the care of an experienced, board-certified facial plastic surgeon.
A board-certified medical professional is one who has undergone additional training, scrutiny, and review by their peers. Their training has been reviewed, and their professionalism and ethics have been fully vetted over time. Becoming a surgeon takes training and skill; becoming a board-certified physician is even more difficult and impressive.
Patient Results
Hundreds of satisfied patients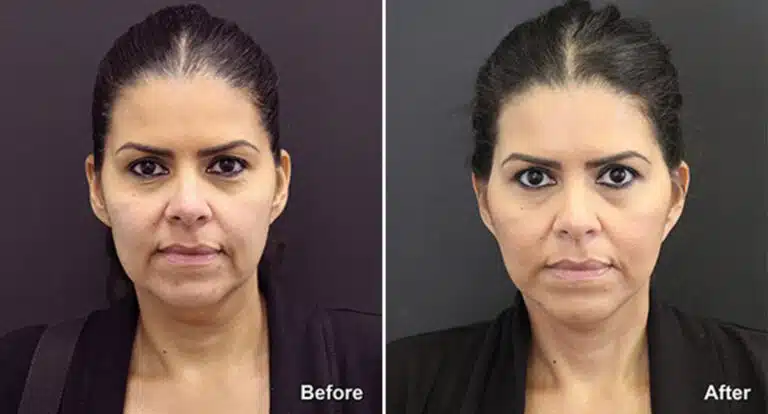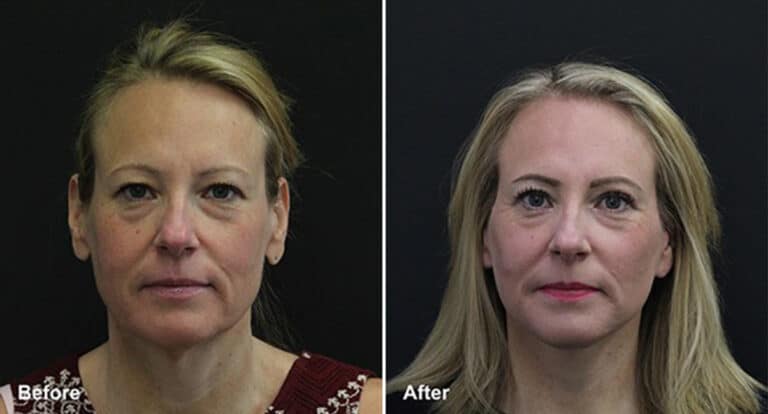 * All patients are unique and individual results may vary.
Complementary Procedures to Neck Rejuvenation
Neck lifts target the skin from the collar bones to the chin. Many who choose a neck lift may also want to consider other procedures to enhance their new look, such as:
A facelift, to provide comprehensive rejuvenation
A browlift, to reduce the signs of aging skin on the forehead
Botox treatments, to smooth out grooves or creases along the forehead or near the eyes
Eyelid surgery (blepharoplasty), to reduce sagging skin above and below the eyes
A mild to moderate chemical peel, to brighten skin overall
Because full recovery from a neck lift will take about four weeks, many people choose to get this surgery in combination with other procedures. Do be prepared for the possibility of longer recovery should you combine surgeries at Becker Plastics.
Neck Lift Faqs
I live alone. Can I recover on my own in my home?
For the first 24 hours, you will need to have someone stay with you. There will be soreness and you will probably need to wear a compression bandage. Keep all follow-up appointments and keep a close eye on your incision for signs of pus, serious inflammation, or bleeding. You'll need to be monitored for fever as well.
How long until I can exercise at my gym again?
Vigorous exercise should be avoided for at least two to four weeks after your procedure, though it's a good idea to take short walks starting a day or two after surgery to get the blood moving and to lift your spirits. As directed, try to sleep with your head elevated to avoid rolling from side to side on your incisions as this may cause blood to pool in the early stages and lead to more bruising.
When can I wear makeup? 
Give your incisions at least two weeks to heal fully before you apply makeup to your skin. It may be tempting to put on a heavy layer to cover any bruising, but if at all possible, let your skin breathe and leave your incisions clean and unaltered for the full four weeks after your procedure.
What neck lift office is near me?
If you live in the states of Pennsylvania or New Jersey, Becker Plastic Surgery offers neck lift among its services. For a full list of services, please visit our Locations page.
Discuss Your Neck Rejuvenation Options
With the right preparation and dedication to a healthy recovery, your neck lift results can greatly improve your confidence in your appearance. Whether you just want to get rid of wrinkles or are tired of sagging skin and that bit of extra fat under the chin that never seems to go away, a neck lift is a wonderful way to bring positive focus and healthy attention to your eyes and your bright smile. Contact Becker Plastics in Philadelphia, Voorhees, Yardley, or Princeton for an initial consultation.
ADDRESS:
256 Bunn Drive, Suite B
Princeton NJ 08540 US
PHONE:
609-279-0009
HOURS OF OPERATION:
Monday – Friday: 8 a.m. to 5 p.m.
Why choose the Doctors at Becker Plastic Surgery
Nicole Schrader, MD, FACS