Chin Augmentation in New Jersey & Philadelphia
Chin surgery relates to any procedure that alters the shape and size of the chin for aesthetic purposes. In some cases, patients have an oversized chin and wish to make it smaller. If you live in the greater Philadelphia and Princeton areas (including Yardley and Voorhees, NJ) and are interested in a chin augmentation procedure, contact Becker Plastics.
A chin augmentation can improve the aesthetics of your face by providing balance and symmetry. Along with the shape of your cheekbones, your chin can dramatically affect your appearance. Those in the greater Philadelphia and Princeton, NJ, areas can now take advantage of this simple, yet life-changing procedure with help from the talented plastic surgeons at Becker Plastics.
A square chin in men and a slightly pronounced, but rounded, chin in women contribute to most patients' ideal facial proportions. Having the option of improving your chin with a safe procedure performed by a skilled and experienced surgeon is an option for those in Princeton, Yardley, Voorhees, and Philadelphia.
What is Chin Surgery?
Chin surgery relates to any procedure that alters the shape and size of the chin for aesthetic purposes. In some cases, patients have an oversized chin and wish to make it smaller.
When referring to chin augmentation, however, the procedure reshapes the area by adding an implant. The goal of the procedure can be to increase the size of the chin to improve the profile and facial balance or to correct an asymmetrical chin.
The Chin Augmentation Procedure
In preparation for the procedure, the surgeon will determine exactly what modifications the patient will need. With the use of imaging, the exact goals and desired outcome are modeled using specialized software. This way, there are no surprises as to what you should expect.
The procedure itself involves an incision under the chin. An experienced plastic surgeon can make this incision as small and discreet as possible.
Then, the surgeon is ready to create the pocket where the implant will be placed. The soft tissue under the skin will need to stretch in order to make room for the implant. A knowledgeable surgeon will create this pocket gently without damaging any of the surrounding tissues.
With the pocket ready, the doctor inserts the implant. In most cases, the implant will go above the chin bone. Most chin implants are made from solid silicone.
The surgeon then closes the incision. They will place sutures that dissolve naturally, guaranteeing optimal healing. After the incision is closed up, you're ready to begin the recovery process.
Patient Results
Hundreds of satisfied patients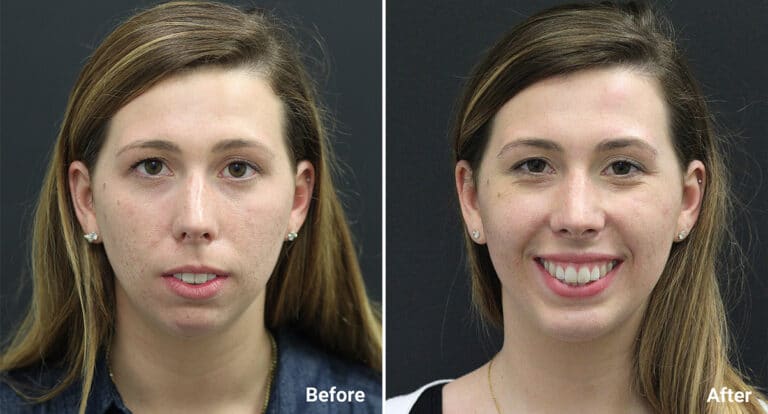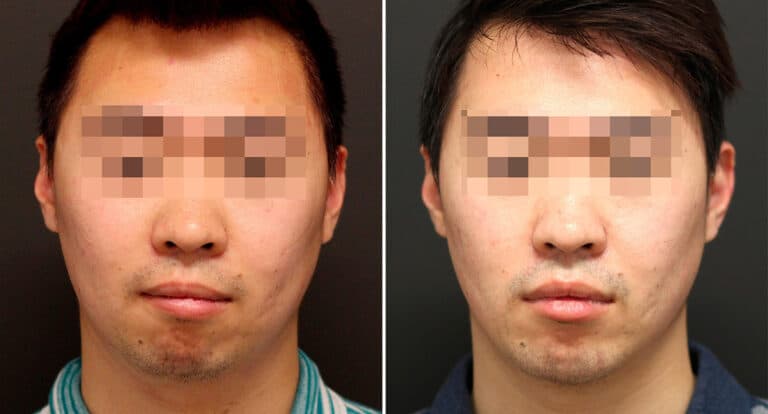 * All patients are unique and individual results may vary.
Good Candidates for a Chin Augmentation
While many may benefit aesthetically from a chin augmentation, not everyone will be a good candidate for the procedure. A consultation with a surgeon at Becker Plastics in Philadelphia, Princeton, Voorhees, or Yardley will give you a conclusive answer as to whether or not it is safe and advisable for you to go ahead with the procedure.
An ideal candidate for the chin augmentation procedure is someone whose upper teeth meet their lower teeth without a problem. This means that their jaw lies properly in the mid-face region. Prospective patients whose jaw is too far back with respect to their mid-face may not be good candidates.
Even if this misalignment is present, you can still take action to improve your appearance. In these cases, the surgeon will typically recommend a different treatment plan. Regardless, a physical examination by your surgeon will help them understand your candidacy better so they can offer you some solutions.
Come to your consultation with a list of questions and be prepared to discuss your goals and health history. Your plastic surgeon will customize the surgery to suit your needs and choose the ideal chin implant to help you reach your cosmetic goals.
What To Expect After the Chin Augmentation Procedure
Recovery from chin augmentation surgery is generally very easy. The incision should heal quickly, allowing you to get back to your daily routines in no time. Still, you should take at least a few days off after your procedure for recovery.
An experienced surgeon will treat the incision with the utmost care to minimize the potential for discomfort and infection. You will receive detailed instructions on how to care for the area. It's important to know what to expect after surgery so you can be on the lookout for potential complications.
Swelling
Since the procedure involves an incision, you can expect some swelling as your body initiates the healing process. The amount of swelling may vary due to a variety of factors. It's natural to experience more swelling over the first few days before it starts to subside.
Your surgeon will advise you to avoid heavy lifting and other strenuous activities during the first few weeks. They will also tell you to keep your head elevated as much as possible and to avoid bending over intensely or too often.
Numbness
You can expect to feel some numbness in your jaw post-surgery. You don't need to worry if you experience a prickly feeling or other similar sensations. The nerves in your jaw simply need about a week to recover from the surgery.
Bruising
Just as with swelling, the amount of bruising will depend on your body's particular healing process. Track the condition of the area and avoid applying make-up for the first couple of weeks. This way, you can let your doctor know if bruising persists further so they can provide accordingly.
Frequently Asked Questions about Chin Augmentation
How soon will I see results?
Although the implant will be in place immediately after the surgery, the final results will be noticeable approximately three to four months post-surgery. This delay is because there needs to be enough time for the swelling to subside and for the surrounding tissue to heal. Furthermore, the area needs to adapt to the implant and create an environment that integrates it seamlessly.

The body is made up of a very intelligent group of intertwining systems and takes its time to heal and adapt. However, you won't have to wait four months for the preliminary results to become visible. With the implant in place, your chin will look fuller right away.
Is chin augmentation painful?
There will be minimal, if any pain, post-surgery as your doctor will give you medication to keep you pain-free. Cold compresses can contribute to minimizing swelling and pain as well.

To put it in perspective, general downtime is usually about a week after the procedure. You can return to most everyday activities after approximately seven days. Vigorous exercise and similar activities should be postponed a few additional weeks.
What are chin implants made from?
Chin implants are made of materials that are compatible with the body. Silicone is one such material that has been used successfully for decades as an implant in humans. Gore-Tex is another material that has a long history of use by plastic surgeons.
Can chin augmentation fix a double chin?
It depends. A person with a "weak" chin can be more prone to developing a double chin, regardless of their weight. A chin implant extends and reshapes the chin, which can fix the problem in some patients.

However, if you have stubborn extra fat under the chin, another procedure might be appropriate. Ask your surgeon for guidance on the best procedure for you. 
What chin augmentation office is near me?
If you live in the states of Pennsylvania or New Jersey, Becker Plastic Surgery offers chin augmentation among its services. For a full list of services, please visit our Locations page.
Schedule a Consultation
If you live in the greater Philadelphia and Princeton areas (including Yardley and Voorhees, NJ) and are interested in a chin augmentation procedure, contact Becker Plastics. You can submit a request through our contact form or call us at 609-293-2752 for the Princeton area and 856-408-1760 for Philadelphia. Our staff is always prompt in replying and will be more than happy to assist you in scheduling an appointment with one of our experts.
ADDRESS:
256 Bunn Drive, Suite B
Princeton NJ 08540 US
PHONE:
(609) 874-7199
HOURS OF OPERATION:
Monday – Friday: 8 a.m. to 5 p.m.
Why choose the Doctors at Becker Plastic Surgery
Nicole Schrader, MD, FACS