Chin Augmentation in New Jersey & Philadelphia
Noticing facial hollows and diminishing contours? Enhance your facial features with Facial Fat Grafting at Becker Plastic Surgery. At our New Jersey or Philadelphia offices, we utilize your own fat to revive and restore youthfulness. Experience a naturally rejuvenated appearance without synthetic fillers. Step into a fresher, radiant version of yourself with our expertise. Secure your consultation spot now.
Balance Your Face Beautifully with Chin Augmentation Benefits
In the intricate tapestry of facial aesthetics, the chin serves as a pivotal anchor. Chin Augmentation goes beyond mere enhancement—it's about crafting a defining statement. By refining the chin, we're not just altering a singular feature; we're redefining an entire facial narrative, paving the path to a more balanced, vibrant countenance.
Harmonized Facial Balance
A pronounced chin complements and accentuates other facial features, ensuring symmetry and allure.
Improved Profile
Elevate your side profile with a chin that speaks of strength, character, and poise.
Confidence Boost
Chin Augmentation fosters newfound self-assuredness, letting you face the world with an empowered stance and look.
A chin augmentation can improve the aesthetics of your face by providing balance and symmetry. Along with the shape of your cheekbones, your chin can dramatically affect your appearance. Those in the greater Philadelphia and Princeton, NJ, areas can now take advantage of this simple, yet life-changing procedure with help from the talented plastic surgeons at Becker Plastics.
A square chin in men and a slightly pronounced, but rounded, chin in women contribute to most patients' ideal facial proportions. Having the option of improving your chin with a safe procedure performed by a skilled and experienced surgeon is an option for those in Princeton, Yardley, Voorhees, and Philadelphia.
What Is Chin Augmentation?
Chin augmentation is a cosmetic procedure performed by plastic surgeons to bring balance to the face and enhance facial features. This procedure helps patients achieve a more attractive, youthful appearance. It involves placing a small implant into the chin area to add volume and definition to the jawline.
When done correctly, it can improve facial symmetry, giving the patient an overall more harmonious look. Plastic surgeons are experts in this treatment and can ensure that your chin augmentation will be successful and provide you with natural-looking results.
Patient Results
Hundreds of satisfied patients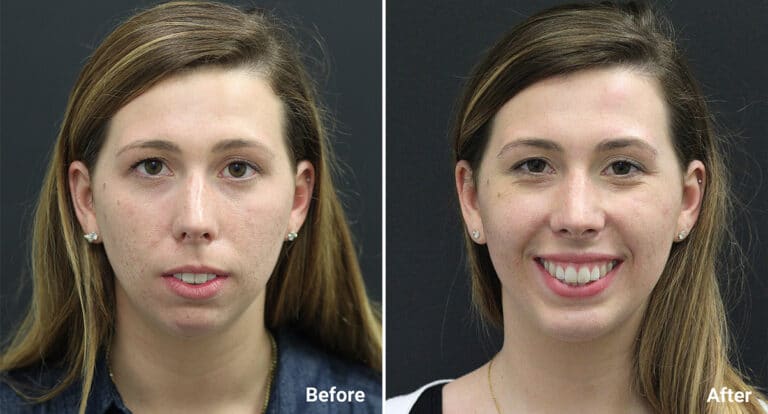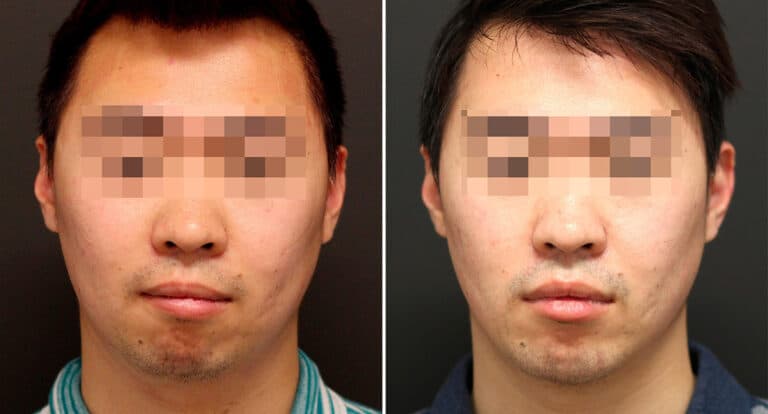 * All patients are unique and individual results may vary.
Candidates For Chin Augmentation Surgery
The ideal candidates for chin augmentation surgery are individuals with facial structures that lack definition or have an imbalance in their facial symmetry.
During the procedure, a small implant is inserted into the chin area to add volume and provide more definition to the jawline. This type of implant surgery can help restore balance and create a more harmonious look. Additionally, it can also improve overall facial symmetry, making patients look younger and more attractive.
Who provides Chin augmentation?
At Becker Plastic Surgery, we have a skilled plastic surgeon on staff who has extensive experience with chin augmentation.
Our goal is to use the latest techniques to achieve natural-looking results that give our patients the attractive and well-defined jawline they desire. We offer a variety of different shapes and sizes of implants that can be customized to each patient's individual needs in order to obtain the desired outcome.
During your consultation, we will discuss all aspects of your chin augmentation and provide you with detailed information about the procedure so that you can make an informed decision.
Cost Of Chin Augmentation
The cost of chin augmentation varies depending on your facial profile, aesthetic goals, and desired outcome. In general, the total cost of the surgery ranges from approximately $3,000 to $7,000. This includes the surgical fees for the plastic surgeon's time and expertise, anesthesia fees, facility fees as well as post-operative care and follow-ups.
Additionally, some surgeons may also provide discounts depending on each patient's individual circumstances or medical history. If you are interested in this type of procedure for yourself or a loved one it is important to speak with a qualified plastic surgeon about all financial aspects of your treatment plan so that you can make an informed decision in regard to chin augmentation.
It is important to note that chin augmentation is a cosmetic procedure so it will not be covered by most insurance plans. However, many plastic surgeons offer financing options to help patients cover the costs associated with their chin augmentation procedure.
What is the procedure for Chin Augmentation?
Chin augmentation is a relatively straightforward procedure that involves the placement of an implant into the chin area to add volume and definition. First, the plastic surgeon will make a small incision either inside or outside of the mouth where the chin implant will be inserted. They then carefully place the implant in between and around the chin bone, making sure it is positioned correctly for optimal results.
The implant is then secured in place with sutures to ensure that it is secure. Once complete, patients can expect to have a stronger chin and an improved facial appearance that looks natural and harmonious.
What results can Chin Augmentation achieve?
Chin augmentation is a surgical procedure that is designed to help patients with weak chins or imbalanced facial symmetry achieve improved facial appearance.
With the placement of a chin implant, the patient's chin area can be enhanced, providing a strong and well-defined jawline. This improves overall facial harmony and creates a look of youthfulness and attractiveness. When performed by an experienced plastic surgeon, the results can be quite natural looking and highly satisfying for patients who desire improved facial balance.
When performed by an experienced plastic surgeon, the results can be quite natural looking and highly satisfying for patients who desire improved facial balance.
What is Recovery Like after Chin Augmentation?
Recovery after chin augmentation varies based on the complexity of the procedure and the patient's individual healing process.
Generally, patients can expect to be able to resume their normal activities within a few days after surgery. They may experience some swelling or bruising in the area, but these should dissipate within a few weeks as the skin adjusts to its new shape. Physical activity should be avoided for at least four weeks following chin augmentation to ensure that the implant is fully secure in place.
It is also important that patients follow their surgeon's instructions closely and attend all follow-up appointments so that they can monitor their results and make sure they are achieving their desired balanced appearance.
Are there any risks to getting Chin Augmentation?
Chin augmentation is a relatively safe procedure, but as with any surgical intervention, there are certain risks that patients should be aware of before making their final decision.
Every patient is different and some may experience more extreme side effects than others. Possible risks include infection, nerve damage, and asymmetrical results due to uneven swelling or scarring. It is important for patients to discuss these possible risks with their surgeon during a private consultation prior to undergoing the surgery and ask questions about the recovery process and surgical technique used.
With proper care and diligent follow-up with their plastic surgeon, most patients can expect good results from chin augmentation with minimal risk of complications.
Why choose the Doctors at Becker Plastic Surgery
Kirk Lozada, MD, FACS
Daniel Becker, MD, FACS
Nicole Schrader, MD, FACS
Pick one of our 6 convenient locations
for Your Plastic Surgery Needs
Frequently Asked Questions about Chin Augmentation
How long is the recovery period?
Generally, the recovery period from chin augmentation is relatively straightforward and patients can usually return to their daily activities within a few days. However, it is important to avoid any strenuous activity for at least four weeks after surgery in order to ensure that the implant has been properly secured in place.

Swelling and bruising are common side effects of the procedure which should dissipate over time as the skin adjusts to its new shape. Patients should follow all instructions provided by their plastic surgeon closely in order to ensure they achieve their desired results with minimal risk of complications.
The type of anesthesia you get and who administers it
At Becker Plastic Surgery, our experienced facial plastic surgeons are highly skilled in providing excellent results with chin augmentation. The procedure is typically performed under general anesthesia and administered by a board-certified anesthesiologist for patient comfort and safety.

All of our implant surgery procedures are carefully monitored to ensure the best possible outcome and minimize any potential risks or complications. With their expertise and experience in this specialized field, our facial plastic surgeons can provide you with the personalized care you need to help you achieve your desired balanced look.
Will I Have Scars from a Chin Augmentation?
As with any surgical procedure, there is the potential for scarring depending on the complexity of the procedure and the individual healing process. However, our experienced cosmetic surgeons take every measure possible to ensure minimal scarring.

With their expertise in this specialized field, they are able to perform chin augmentation with precision so that you can achieve your desired look without having to worry about unsightly scars.
How Long Does a Chin Augmentation Take to Perform?
In general, chin augmentation procedures typically take approximately one to two hours depending on the complexity of the case. The procedure begins with an initial consultation in order to discuss your desired results and assess your candidacy for the surgery.

During this visit, your plastic surgeon will place a chin implant that is custom-fit to ensure optimal results. After the implant has been placed, you will then enter into a recovery period which can last up to four weeks. It is important to follow all post-operative instructions provided by your surgeon in order to achieve your desired results and minimize any potential risks or complications. 
What Chin Augmentation office is near me?
If you live in the states of Pennsylvania or New Jersey, Becker Plastic Surgery offers chin augmentation among its services. For a full list of services, please visit our Locations page.