Blepharoplasty in New Jersey & Philadelphia
The effects of time can cause the skin of the eyelids to stretch and the muscles under the skin to lose strength, resulting in sagging that can make you look tired no matter how well you're sleeping and may even get in the way of your ability to see clearly. Blepharoplasty, or eyelid surgery, can be performed to reduce sagging above the eyes, drooping lids below the eyes, and uneven eyelids. If you're tired of looking tired, schedule a consultation with Becker Plastics in New Jersey, serving the cities of Princeton, Voorhees, and Yardley, as well as Philadelphia.
Banish Tired Eyes with Blepharoplasty Benefits
Blepharoplasty is the gateway to rejuvenated eyes, transcending age and fatigue. This delicate procedure offers a refreshed gaze, symbolizing vitality and youth. Step into the transformative journey, unveiling eyes that not only see but are truly seen.
Youthful Appearance
Erase years with blepharoplasty, transforming droopy lids into captivating windows of youth.
Clearer Vision
Beyond aesthetics, blepharoplasty can eliminate obstructions, ensuring unobstructed, brighter vision.
Boosted Self-Esteem
Radiate confidence with every glance. Revitalized eyes become the centerpiece of genuine self-assurance and charm.
What is Blepharoplasty?
The blepharoplasty procedure addresses the common problems of drooping skin and "bags" in the upper and lower eyelids.
Above the eye, sagging eyelid skin above the crease is tightened while excess fat tissue is removed and weak muscles are tightened. This creates tighter skin and more youthful contours in the eye area, making you look more alert and improving your vision.
Below the eye, fat that has accumulated over time to create a puffy look will be removed or redistributed and the skin will be tightened.
This pocket of under-eye fat can be hard to deal with as your skin ages and weakens, but surgery is an effective solution.
Once removed, the skin between your cheekbones and eyes will be smoother and less obvious. When you look in a mirror, you will see bright, alert, and youthful eyes, free of dark circles under the eyes and without all the excess drooping and bulging around them. Blepharoplasty patients can choose to have their plastic surgeon address the upper or lower eyelids alone, or both together in the same surgery.
Patient Results
Hundreds of satisfied patients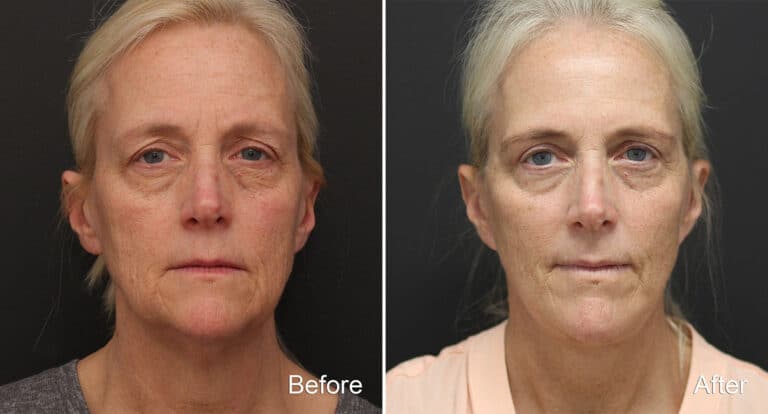 * All patients are unique and individual results may vary.
How is Blepharoplasty Performed?
Blepharoplasty is an outpatient procedure. Some procedures require only local anesthesia, while more in-depth eyelid surgeries call for added sedation or even general anesthesia. Your surgeon will create a surgical plan with you before the day of the procedure.
Eyelid surgery requires finesse and skill and should only be performed by a board-certified plastic surgeon. Here's how each type of blepharoplasty is performed:
Upper Blepharoplasty Procedure
A small incision is made in the eyelid crease. Fatty tissue in the skin above the eyelid is removed, muscles are tightened, and excess skin is cut away.
Lower Blepharoplasty Procedure
There will be an incision made in the tiny crease just under your lower lashes or inside the lid. From this opening, the fatty tissue that has accumulated will be addressed and excess skin will be cut away as well.
Eyelid Surgery Recovery
Prepare to take around two weeks off after your surgery. You will need to avoid makeup initially to prevent infection and reduce the chances of developing visible scarring. In the first few days after your surgery, you'll want to focus on rest and use pain and anti-inflammation meds as directed. You'll also need to use cold compresses to keep swelling under control.
To prepare for your recovery, make sure that you:
Have someone staying with you or checking on you if you live alone
Can lie down comfortably on your back with your head elevated
Have access to cold compresses to reduce swelling after blepharoplasty
Avoid eye strain
Avoid alcohol
Compresses are key to managing post-surgical discomfort and inflammation. Because you will have stitches around your eyes, you'll want to build your cold compress from a lint-free cloth and a bag of something frozen, such as frozen peas.
When your hands are clean, wrap the frozen peas in the cloth and place them over your eyes. You can dampen the cloth only as directed by your doctor; adding water to your incision may not be the best choice early on. Your surgeon should give you detailed aftercare information to avoid possible scars from blepharoplasty.
No matter how you choose to manage your inflammation, do not:
Use a warm compress; it will just increase the inflammation
Ice your eyes for more than 20 minutes
Frostbite is possible when applying ice, so be careful. Use a timer to make sure you don't fall asleep under your compress.
Things to Consider Before Your Eyelid Surgery Consultation
Eyelid surgery may be something that you've wanted for a long time, and you deserve to be proud of your appearance. Getting the best results possible starts with a consultation at our New Jersey offices. Come to your consultation ready to talk about your goals, health history, and any questions or concerns you may have.
Make sure that you bring your surgeon a list of all your current medications to avoid any excessive risk during the procedure. You may need to stop some medications prior to your procedure and avoid them for the first few days or weeks of recovery. Discuss this with your regular physician as well, if possible.
The consultation is an opportunity for you to get to know your surgeon, find out more about the procedure, and understand your own candidacy. Make the most of your consultation by asking lots of questions!
Alternative and Complementary Procedures to Blepharoplasty
Perhaps you're interested in eyelid surgery but aren't ready to commit to permanent correction, or surgery just isn't in the budget yet. You might still be able to get terrific results at the Becker offices in Princeton, Voorhees, Yardley, and Philadelphia with other therapies. For example, you could undergo skin microneedling, which is non-invasive and boosts collagen production. This tightens the skin and improves the tone. It can also reduce the appearance of dark circles.
If your under-eye concerns aren't bags but hollows, an injectable filler could be enough to smooth out the area under the eyes and leave you looking more well-rested. Finally, if brow wrinkles are a point of concern, consider using Botox to relax the brow line and stop the downward pull on aging skin.
Why choose the Doctors at Becker Plastic Surgery
Kirk Lozada, MD, FACS
Daniel Becker, MD, FACS
Nicole Schrader, MD, FACS
Pick one of our 6 convenient locations
for Your Plastic Surgery Needs
Common Eyelid Surgery Questions
Can I drive to my appointment?
You should have someone drive you to your Philadelphia appointment for eyelid surgery as you will not be able to drive home. Additionally, you should plan to have someone stay with you at your home if you live alone for the first few days. You may need help and you shouldn't exert yourself too much.
How soon can I wear makeup?
Be ready to go bare-faced for at least two weeks. Don't work makeup into your scars. After two weeks, you can use makeup to reduce the appearance of any residual bruising.
Should I moisturize before the procedure?
The surgical site will be carefully cleaned before your procedure, but try to come in bare-faced if possible.
How long will I have bruises?
You can expect swelling for the first week and bruising for about two weeks total. Make sure that you put your post-op instructions somewhere that you and your helper can easily review them. Use the medications and cold compresses as instructed. Time your cooling sessions carefully!
What blepharoplasty office is near me?
If you live in the states of Pennsylvania or New Jersey, Becker Plastic Surgery offers blepharoplasty among its services. For a full list of services, please visit our Locations page.