Scar Revision in New Jersey & Philadelphia
Bothered by a stubborn scar? Elevate your confidence with Scar Revision at Becker Plastic Surgery. Whether you're in Philadelphia, Princeton, Voorhees, or Yardley, our skilled team will minimize the appearance of unsightly scars. Experience a smoother, more even skin tone that reflects your inner beauty. Don't let scars hold you back—transform your skin and your life with us. Book your consultation today.
Embrace Clear Skin with Scar Revision Benefits
Scars often bear memories we'd rather forget. With Scar Revision, we are not merely addressing a skin concern but reviving the confidence overshadowed by these marks. This transformative procedure promises more than skin-deep changes, offering a renewed sense of self and a canvas of flawlessly smooth skin.
1
Restored Smoothness
Bid farewell to unsightly scars, allowing your skin to reclaim its natural elegance and texture.
2
Enhanced Self-Confidence
With scars diminished, move forward with renewed self-assuredness, letting your true beauty shine unobstructed.
3
Minimized Visibility
Expert scar revision techniques reduce and refine scars, ensuring they blend seamlessly, almost like they were never there.
The unsightly appearance of scars can weigh down your confidence. Whether from an accident, illness or burn, scars can form anywhere on your skin. Becker Plastics is a leading cosmetic and reconstructive surgery practice that offers expert scar revision for patients in Philadelphia, New Jersey, and beyond.
Patient Results
Hundreds of satisfied patients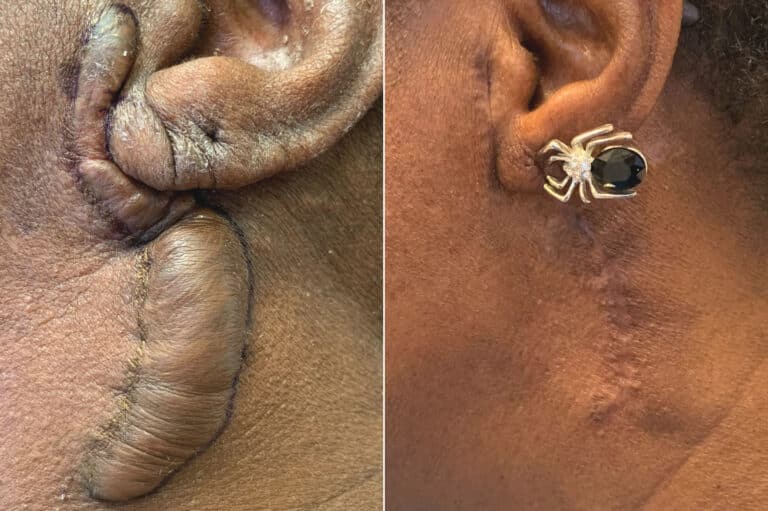 * All patients are unique and individual results may vary.
What Is Scar Revision?
Scar revision is a procedure that minimizes unsightly scars. The goal is to make a scar as inconspicuous as possible by having it blend in with the surrounding skin. Depending on the severity of the scar, there are different ways to approach a solution.
Scar revision treatments can range from light and laser therapy to a Z-plastic surgical procedure. The latter is a surgical technique that creates two adjacent triangular flaps in the shape of a 'Z' and transposes them. The goal of such a procedure is to elongate or rotate a scar to improve the appearance and functionality of the skin.
Several surgical methods such as skin grafts and flap surgery exist and your surgeon can guide you to the appropriate procedure, depending on the specific characteristics and type of scar. You'll find it exciting to know that modern medicine affords doctors with advanced tools and technology that can work wonders. The results of the procedure for improving the appearance of scar tissue, are better now than at any other time in history.
About Scars
Scars are permanent marks that an injury leaves behind after it heals. A wound due to an accident or other cause forces your body into a defensive stance. Your immune system rushes to patch up the opening like a hasty repairman.
You can think of a scar as being similar to stucco hastily thrown onto a crack in the wall. You can paint over the stucco, but you'll still be able to see the crude lump of material that now covers the opening.
Since your body works in overdrive in its effort to mend the wound, collagen fibers are quickly put together to seal the opening. While your skin contains collagen, the resulting connective tissue isn't exactly new skin.
It is a similar tissue that results from the same material and is just as effective at safeguarding your body from the environment. However, scars are not able to recover in the same way as skin. That is why scars don't shed to reveal fresh and smooth layers of skin.
Types of Scars That Can Be Treated
Scars have different causes and therefore need a different approach depending on their nature. There are fine-line scars that can almost fade on their own away over time. Visible scars that may require a surgeon's expertise include the following:
Keloid Scars
Keloid scars are an excess of scar tissue that occurs when your body overcompensates during the wound-healing process. The body will increase collagen production at the site of the wound, resulting in protrusion.
Keloid scars can keep growing even after a wound heals. This overzealous reaction from your body results in a red, pink, or off-color lump. A side effect of keloid scars is that they can be painful or itchy.
Due to the formation of an excessive volume of scar tissue in the area, keloid scars can restrict movement. This tends to happen when collagen buildup is near a joint or an area like the mouth or eyes.
Hypertrophic Scars
Similar to keloid scars, hypertrophic scars appear when your body uses too much collagen to patch up a wound. Hypertrophic scars are a bit less severe than keloids, however, in that they don't bulk up past the limits of the initial wound.
Contractures
Contracture scars are usually the result of burns. In the case of these noticeable scars, the skin tightens and leads to restriction of mobility.
Sunken Scars
Acne or other medical conditions can cause scars in which the skin sinks, giving the area a pitted appearance.
The Scar Revision Procedure
The procedure starts with anesthesia to keep you comfortable. Depending on the procedure, your surgeon will choose between local anesthesia, sedation, or general anesthesia.
Treatment will then progress according to what your surgeon deems is the best solution. Topical treatments can help close wounds and promote better healing, while injectable options can fill in depressed scars. The latter is ideal for scars that cause a concave indentation in the skin such as sunken scars.
Since most scars protrude above the level of the skin, surface treatments are the most common approach. They improve uneven pigmentation while softening any irregularities on the surface. Surface treatments include light or laser therapy, dermabrasion, chemical peels, and skin bleaching.
Deeper scars may require an incision to extract part of an old scar. The incision will then be closed with special sutures that your skin absorbs.
Good Candidates for Scar Revision
If you have an unsightly or uncomfortable scar that you would like to improve on, you're almost certainly the ideal candidate for scar revision. You should be a non-smoker or at least willing to quit smoking in advance of the procedure to ensure the best results possible. Your doctor will advise you according to your skin type and other factor and provide specific recommendations.
It should also be noted that some skin diseases like acne may preclude you from undergoing scar treatments. An examination of your skin conditions and a review of your medical history by your doctor will be enough for the final green light. If you are generally in good health and maintain realistic expectations, you should be a good candidate.
Why choose the Doctors at Becker Plastic Surgery
Kirk Lozada, MD, FACS
Daniel Becker, MD, FACS
Nicole Schrader, MD, FACS
Pick one of our 6 convenient locations
for Your Plastic Surgery Needs
Frequently Asked Questions About Scar Revision
Patients who undergo scar revisions are eager to get back to their everyday lives with renewed confidence. Let's look at some of the most common questions people have regarding scar revisions.