Scar Revision in New Jersey & Philadelphia
Scar revision is a procedure that minimizes unsightly scars. The goal is to make a scar as inconspicuous as possible by having it blend in with the surrounding skin. Schedule a scar revision consultation in Philadelphia, Princeton, Voorhees, or Yardley with the experts at Becker Plastics. Our board-certified plastic surgeons can help you feel more confident and comfortable in your daily life.
Scars can be unsightly and can weigh down your confidence. Whether from an accident, illness, or burn, scars can form anywhere on your skin. Becker Plastics is a leading cosmetic and reconstructive surgery practice that offers expert scar revision for patients in Philadelphia, New Jersey, and beyond.
About Scars
Scars are permanent marks that an injury leaves behind after it heals. A wound due to an accident or other cause forces your body into a defensive stance. Your immune system rushes to patch up the opening like a hasty repairman.
You can think of a scar as being similar to stucco hastily thrown onto a crack in the wall. You can paint over the stucco, but you'll still be able to see the crude lump of material that now covers the opening.
Since your body works in overdrive in its effort to mend the wound, collagen fibers are quickly put together to seal the opening. While your skin contains collagen, the resulting connective tissue isn't exactly new skin.
It is a similar tissue that results from the same material and is just as effective at safeguarding your body from the environment. However, scars are not able to recover in the same way as skin. That is why scars don't shed to reveal a fresh layer of smooth skin.
What Is Scar Revision?
Scar revision is a procedure that minimizes unsightly scars. The goal is to make a scar as inconspicuous as possible by having it blend in with the surrounding skin. Depending on the severity of the scar, there are different ways to approach a solution.
Scar revision can range from light and laser therapy to a Z-plasty surgical procedure. The latter is a surgical technique that creates two adjacent triangular flaps in the shape of a 'Z' and transposes them. The goal of such a procedure is to elongate or rotate a scar to improve the appearance and functionality of the skin.
Several surgical methods exist and your surgeon can guide you to the appropriate procedure, depending on the specific characteristics of your scar. You'll find it exciting to know that modern medicine affords doctors with advanced tools and technology that can work wonders. The results of a scar revision are better now than at any other time in history.
Types of Scars That Can Be Treated
Scars have different causes and therefore need a different approach depending on their nature. There are fine-line scars that can almost fade on their own away over time. Scars that may require a surgeon's expertise include the following:
Keloid Scars
Keloid scars are overgrowths of scar tissue that occur when your body overcompensates during the wound healing process. Your body will rush to create a large amount of collagen that ultimately protrudes from the wound.
Keloid scars can keep growing even after a wound heals. This overzealous reaction from your body results in a red, pink, or off-color lump. A side effect of keloid scars is that they can be painful or itchy.
Due to the formation of an excessive volume of scar tissue in the area, keloid scars can restrict movement. This tends to happen when collagen buildup is near a joint or an area like the mouth or eyes.
Hypertrophic Scars
Similar to keloid scars, hypertrophic scars appear when your body uses too much collagen to patch up a wound. Hypertrophic scars are a bit less severe than keloids, however, in that they don't bulk up past the limits of the initial wound.
Contractures
Scar contractures are usually the result of burns. In the case of scar contractures, the skin tightens and leads to restriction of mobility.
Sunken Scars
Acne or other medical conditions can cause scars in which the skin sinks, giving the area a pitted appearance.
The Scar Revision Procedure
The procedure starts with anesthesia to keep you comfortable. Depending on the procedure, your surgeon will choose between local anesthesia, sedation, or general anesthesia.
Treatment will then progress according to what your surgeon deems is the best solution. Topical treatments can help close wounds and promote better healing, while injectable options can fill in depressed scars. The latter is ideal for scars that cause a concave indentation in the skin such as sunken scars.
Since most scars protrude above the level of the skin, surface treatments are the most common approach. They improve uneven pigmentation while softening any irregularities on the surface. Surface treatments include light or laser therapy, dermabrasion, chemical peels, and skin bleaching.
Deeper scars may require an incision to extract part of an old scar. The incision will then be closed with special sutures that your skin absorbs.
Patient Results
Hundreds of satisfied patients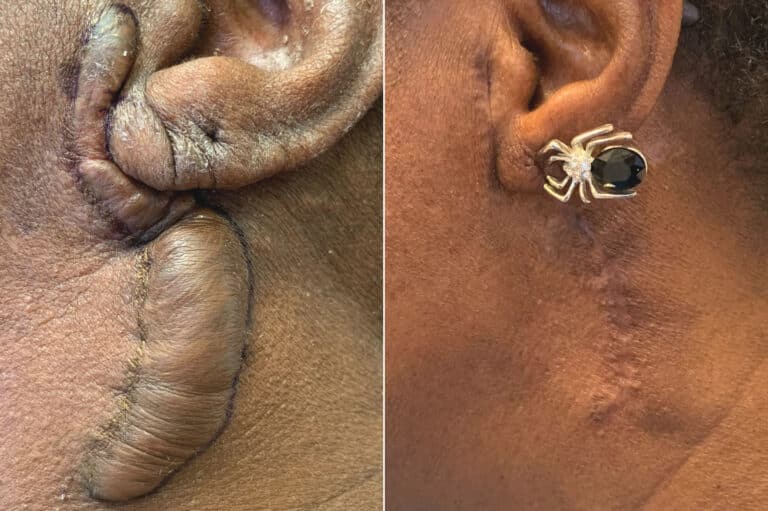 * All patients are unique and individual results may vary.
Good Candidates for Scar Revision
If you have an unsightly or uncomfortable scar that you would like to improve on, you're almost certainly a good candidate for scar revision. It is preferable that you are a non-smoker or at least willing to quit smoking in advance of the procedure to ensure the best results possible. Your doctor will advise you accordingly and provide specific recommendations.
It should also be noted that some skin diseases like acne may preclude you from undergoing a scar revision. An examination by your doctor will be enough for the final green light. If you are generally in good health and maintain realistic expectations, you should be a good candidate.
Frequently Asked Questions About Scar Revision
Patients who undergo scar revisions are eager to get back their everyday lives with renewed confidence. Let's look at some of the most common questions people have regarding scar revisions.
What kind of scars can I receive treatment for?
Scars resulting from surgery, accidents, fires, acne breakouts, and illnesses can typically be treated. In each case, the procedure may vary and expectations will differ but you can expect to see at least some improvement.
At what age can you have a scar revision?
Even children can get into accidents that leave them with burdensome scars. A scar revision is a procedure that can help patients of all ages. 
Will my insurance cover scar revision?
For the most part, insurance providers do not cover scar revision as the procedure falls in the cosmetic surgery category. Depending on how you got the scar, as well as your specific insurance provider, this may vary. Some scars cause physical discomfort as well, so it's always a good idea to check your policy for coverage. 
Should I expect pain and discomfort after the procedure?
The type and extent of your scar will determine how invasive the procedure will be. In any case, your doctor will provide adequate medication for keeping any pain at bay during recovery. You may experience some discomfort after the procedure, but nothing that will keep you sidelined.
Will I see immediate results?
Although you should see results as early as a few weeks after treatment, the area will continue to change. Your skin is a dynamic organ that will keep healing for up to a year. This means that any results you notice in the beginning will only get better as time passes.
What scar revision office is near me?
If you live in the states of Pennsylvania or New Jersey, Becker Plastic Surgery offers scar revision among its services. For a full list of services, please visit our Locations page.
Schedule a Scar Revision Consultation in Philadelphia or New Jersey
Ready to improve that unsightly, uncomfortable scar and move on with your life? Schedule a scar revision consultation in Philadelphia, Princeton, Voorhees, or Yardley with the experts at Becker Plastics. Our board-certified plastic surgeons can help you feel more confident and comfortable in your daily life.
ADDRESS:
256 Bunn Drive, Suite B
Princeton NJ 08540 US
PHONE:
609-279-0009
HOURS OF OPERATION:
Monday – Friday: 8 a.m. to 5 p.m.
Why choose the Doctors at Becker Plastic Surgery
Nicole Schrader, MD, FACS