Are you considering a revision rhinoplasty, but worried about the amount of swelling that will come with it? Swelling after revision rhinoplasty is normal and to be expected, but how long does it last and what can you do to reduce it? In this article, we'll answer these questions and provide helpful tips to ensure you achieve the results you want from your revision rhinoplasty.
Why Do People Need Revision Rhinoplasty?
Revision rhinoplasty is a type of nose surgery targeting structural and aesthetic flaws from previous rhinoplasties. It is often more complex than the initial rhinoplasty procedure due to rebuilding nasal bridges, reshaping existing cartilage, and correcting any alterations made to the nose after the original rhinoplasty.
Where primary rhinoplasty reshapes the nose to fit the patient's desired look or functionality, revision rhinoplasty surgery mostly corrects undesirable outcomes of the previous nose surgery. A facial plastic surgeon specializing in this secondary rhinoplasty conducts a comprehensive nasal analysis, studies photos of the patient before the initial surgery, and reviews operative reports from their previous rhinoplasties.
The nature of revision rhinoplasty surgery, just as nasal surgery in general, necessitates an extreme level of precision as even a millimeter can dramatically alter a person's looks. It's critically important to ensure that the revised nose fits harmoniously with the rest of the face. With the right surgeon and a well-planned revision procedure, patients can achieve their desired nose shape and functionality while rectifying issues from their initial rhinoplasty.
Understanding Nasal Swelling After Revision Nose Jobs
Swelling is a common concern post-revision surgery, particularly due to the intricate nature of a revision nose job. After a secondary procedure, the body's natural response is to swell at the site of alteration. This response is heightened due to the prior alterations from the original surgery. In facial plastic surgery, such as revision rhinoplasty, swelling occurs as a result of the body's efforts to heal the delicate bone structure and facial features that have been refined during the surgery.
The complexity of nasal anatomy and the necessity to correct and refine the results from previous surgery often results in a more significant inflammatory reaction. This can be due to the disruption of soft tissue, or the addition of grafts to reshape the nose. The swelling is part of the body's healing mechanism, whereby fluids and immune cells rush to the area to start the process of recovery.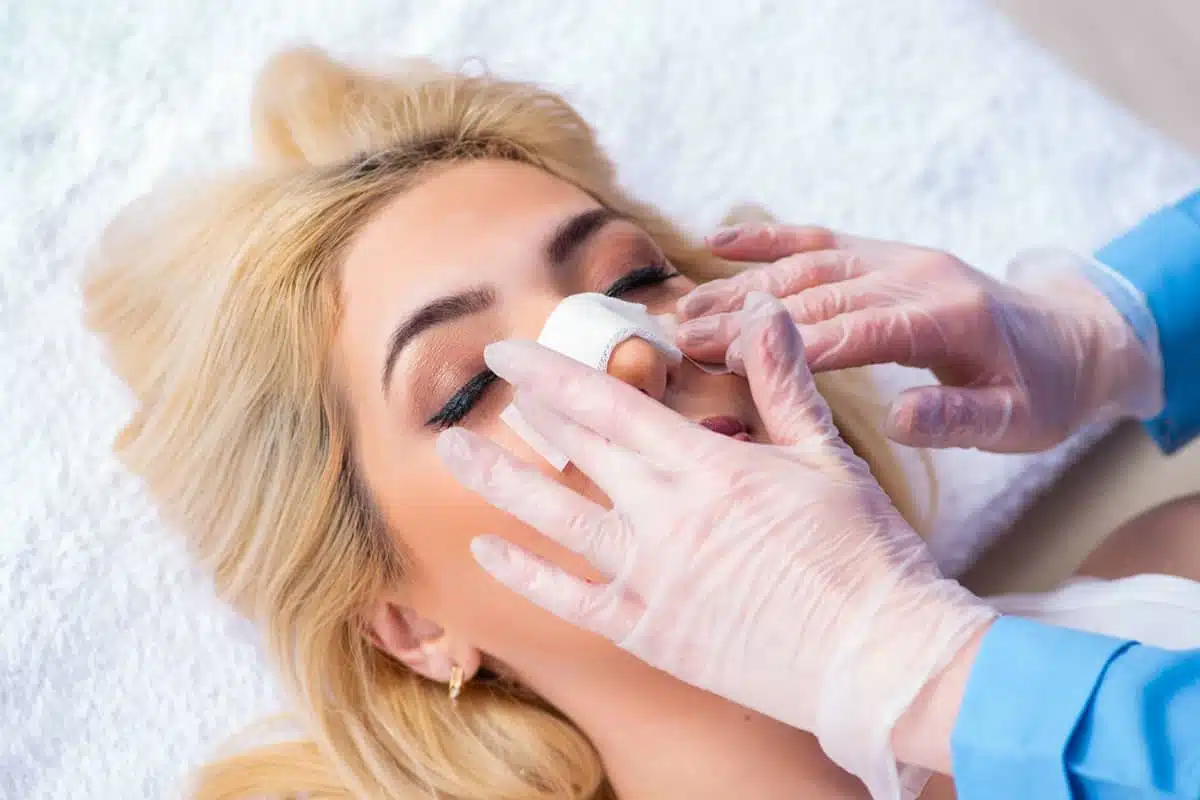 What is the Expected Timeframe for Swelling After a Revision Rhinoplasty?
Recovery from a revision rhinoplasty procedure varies greatly among individuals. The time needed for the swelling to subside generally extends longer than primary rhinoplasty. For the majority of revision rhinoplasty patients, noticeable swelling often lasts between three to six months.
However, the healing process is by nature gradual, and it's important to understand that full recovery can take up to a year, or even longer in some cases. Revision rhinoplasty recovery timeline is generally segmented into early recovery time, which includes the first few weeks post-surgery, and late recovery time, which involves the next few months.
The early recovery period is characterized by significant swelling, bruising, and discomfort, which generally subsides after a few weeks. Late recovery is the time during which the swelling decreases more subtly and the final result of the surgery becomes evident.
Managing expectations and adhering to your surgeon's instructions can facilitate the recovery process. By aligning your expectations with the possible recovery timeline and preparing for the healing journey, you can make the time seem shorter.
Given the variations in individual healing rates, patience is key. The desired aesthetic results are truly visible only after the complete healing of the soft tissue and the resolution of all swelling. So, give your body the time it needs to heal after undergoing a revision rhinoplasty.
What Influences the Swelling Post-Revision Rhinoplasty?
Several factors influence residual swelling seen in revision rhinoplasty patients:
Complexity of Nasal Anatomy
Soft Tissue Integrity: The condition of the soft tissue and scarring from former surgeries can impact both short-term and long-term swelling.
Scar Tissue: The amount and condition of scar tissue contribute to postoperative swelling.
Nature and Extent of Grafts
Grafting Techniques: The type of grafts used, such as cartilage or bone grafts, and their extensiveness can exacerbate swelling.
Scar Tissue Formation: The use of grafts may induce additional scar tissue formation, leading to prolonged swelling.
Surgical Technique Employed
Open vs. Closed Incision: The choice between an open or closed incision approach affects the degree of swelling, with the open incision generally causing more swelling but allowing for more complex revisions.
Postoperative Care and Patient Adherence
Monitoring and Management: Careful monitoring of grafts and incisions, and controlling any underlying conditions, are crucial to manage swelling.
Patient Adherence: Following the surgeon's postoperative instructions is essential to mitigate complications and manage swelling effectively.
Overall, determining factors for post-revision rhinoplasty are multifaceted, inter-dependant, and patient-unique. Therefore, swelling duration varies greatly among revision rhinoplasty patients.
Strategies for Minimizing Swelling After Secondary Nasal Surgery
Reducing swelling after a revision nose job is crucial for both comfort and the overall healing process. Effective strategies include:
Cold Compresses: Applying cold compresses can lead to a significant reduction in swelling. However, it's essential to follow your surgeon's guidance to avoid any damage to the nasal tissues.
Pain Medication: Proper use of pain medication not only provides comfort but can also contribute to swelling management. Anti-inflammatory medications, particularly those prescribed by your facial plastic surgeon, can help control the swelling.
Elevation: Keeping your head elevated, especially during the initial days post-surgery, is key to reducing the gravitational pull on fluids, which in turn helps in the reduction of swelling.
Avoiding Strenuous Activities: Rest is paramount. Activities that increase blood pressure can exacerbate nasal swelling, so they should be avoided as per your surgeon's advice.
By incorporating these measures, patients can facilitate a smoother recovery trajectory following their revision surgery. It is also vital to maintain open communication with your surgeon regarding any common concerns or unusual symptoms during the postoperative period.
Resuming Activities after Revision Rhinoplasty
Resuming normal activities following a revision rhinoplasty is a gradual process. The first few days after surgery should be reserved for rest and recovery without any strenuous activities. Patients may start light activity within three to five days, like short walks or light housework, to promote circulation and expedite recovery.
Within two weeks, most patients return to regular activities like going to work or socializing. Yet, it's essential to avoid any activity that may impact the nose or increase nasal blood flow, as it can influence post-operative swelling. It might take six weeks or more before you can resume strenuous activities or exercise. Bear in mind, that the timeline can vary for each individual and is typically guided by the surgeon's advice and your body's response to the procedure. Remember, patience and adherence to post-op guidelines are key to achieving the desired outcome.
Considering the Revision Rhinoplasty Experience
Studying the overall experience during the revision rhinoplasty process involves considering a wide range of aspects. These include the procedure itself, the recovery process, and follow-ups. Patients often have concerns about the surgical procedure, understandably so. They also grapple with concerns regarding the healing process. At Beverly Hills, clinics ensure personalized attention, allowing patients to openly share their expectations and fears. Undeniably, the overall surgical experience plays a key role in the patient's comfort and satisfaction in revision rhinoplasty.
Armed with a better understanding of revision rhinoplasty and the swelling timeline, take the next step by seeking expert advice. Consulting highly trained surgeons like the rhinoplasty experts from Becker Plastic Surgery can make all the difference. Benefit from the expertise of a professional who has dedicated years toward perfecting his craft and helping patients feel their best.