Rhinoplasty in New Jersey & Philadelphia
Tired of feeling self-conscious about your nose? Elevate your confidence and enhance your facial harmony with rhinoplasty at Becker Plastic Surgery. Serving the New Jersey & Philadelphia areas, our highly skilled surgeons tailor each procedure to your unique needs and desires. With us, you're not just reshaping your nose; you're redefining how you feel every time you look in the mirror. Experience transformative results that last a lifetime.
Experience the Powerful Benefits of Expert Rhinoplasty
The art of rhinoplasty goes beyond mere aesthetics; it's a transformative journey to harmonized facial symmetry and boosted self-esteem. Tapping into this surgical marvel offers a blend of functional enhancements and appearance refinements, promising a renewed sense of confidence.
Enhanced Facial Balance
Rhinoplasty crafts an ideal nose shape, complementing your unique facial features for that balanced, captivating look.
Improved Breathing
Beyond beauty, rhinoplasty can rectify structural issues, ensuring smooth airflow and comfortable breathing.
Boosted Confidence
When you love your nose, your self-esteem soars. Rhinoplasty can be that game-changer, elevating your confidence to new heights.
What is Rhinoplasty or Nose Surgery?
Overall, rhinoplasty is one of many cosmetic procedures available that can enhance facial features while providing functional improvements such as improved breathing ability or reduced snoring. If you are considering undergoing this type of surgery, it is important that you consult with an experienced board-certified plastic surgeon who understands your individual needs before making any decisions about treatment options or scheduling surgery dates.
Open or Closed Rhinoplasty
The rhinoplasty procedure can be done via open or closed techniques. In an open rhinoplasty technique, an incision is made across the columella (the area between the nostrils) and allows access to all areas of the nasal structure. This technique usually takes longer than a closed approach, but it provides more access to reshape and reposition cartilage and bone for optimal aesthetic results. Closed rhinoplasty does not involve any external incisions; instead, small incisions are made inside the nostrils. This technique often offers minimal downtime; however, it may be less effective in cases requiring significant structural changes.
No matter which technique is used, patients should know that rhinoplasty surgery requires great skill and precision from their board-certified plastic surgeon in order to achieve desired outcomes with minimal risks and complications. During your initial consultation, your doctor will discuss your aesthetic goals and evaluate your physical health prior to recommending a treatment plan tailored specifically for you. Afterward, they will provide detailed instructions on how to prepare for surgery as well as what to expect during recovery.
Patient Results
Hundreds of satisfied patients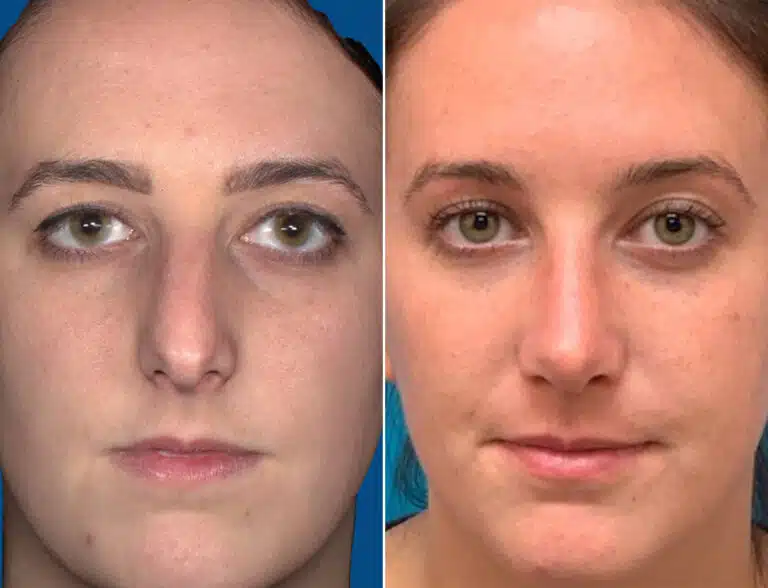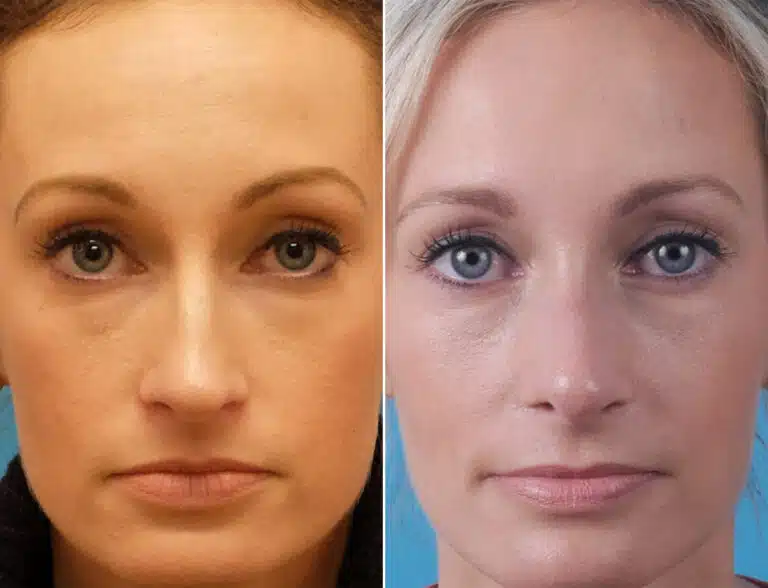 * All patients are unique and individual results may vary.
Types of Rhinoplasty
Cosmetic Rhinoplasty
Cosmetic rhinoplasty is a procedure that can alter the physical appearance of the nose in order to achieve certain aesthetic goals. This type of surgery is often done by facial plastic surgeons, and it involves reshaping the soft tissue, cartilage, bone, or other internal structure of the nose in order to create a more pleasing shape. Common reasons for cosmetic rhinoplasty include improving the proportions of the nose, correcting any asymmetries in its shape or size, and refining features such as the nostrils and nasal tip. The goal is to create an aesthetically pleasing "perfect" nose that complements one's face and harmonizes with their other facial features.
Functional Rhinoplasty
Functional rhinoplasty is a type of nose surgery that focuses on improving breathing ability and treating certain medical conditions that affect nasal function. It may be performed by a facial plastic surgeon to address structural issues inside the nose such as deviated septums, enlarged turbinates (nasal structures), or other structural abnormalities that cause difficulty breathing through one or both nostrils. During this procedure, cartilage grafts from other parts of the body may be used to help rebuild internal nasal structures in order to correct these functional issues. The ultimate goal is to improve breathing ability while still maintaining aesthetic balance with one's facial features.
Ideal Candidates for Rhinoplasty
The ideal candidate for rhinoplasty should have realistic expectations about what they hope to achieve from their surgery and understand all of its risks and benefits prior to undergoing treatment. They should also be healthy enough for anesthesia and able to follow pre-operative instructions carefully before being cleared for surgery at an accredited surgical center. Additionally, if they are seeking a cosmetic procedure then they should have sufficient elasticity in their skin so that it can be reshaped without looking unnatural after healing has occurred. Finally, patients should seek out experienced board-certified plastic surgeons who have extensive experience performing this type of procedure so that they can receive optimal results with minimal risks and complications throughout recovery.
What to Expect from a Rhinoplasty Procedure
Before undergoing rhinoplasty surgery, it is important for the patient to discuss their desired goals and expectations with their surgeon. During the consultation, the doctor will assess the facial aesthetics of the individual and recommend a treatment plan that is suitable for achieving both cosmetic goals and functional improvements. The exact procedure may vary depending on what type of rhinoplasty procedure is being performed (cosmetic or functional), but some common elements include reshaping soft tissue, cartilage, bone, or other internal structure of the nose in order to achieve an aesthetically pleasing "ideal" nose shape. Depending on the complexity of the case, grafts may be taken from either rib cartilage or nasal cartilage in order to rebuild areas of the nose that have been damaged due to structural issues or medical reasons. Additionally, injectable fillers and dermal fillers may be used in certain cases to add additional volume and reduce drooping on certain parts of the nose for a more youthful look.
Ultimately, rhinoplasty is a highly specialized procedure that requires experience and precision in order to achieve optimal results without complications throughout recovery. It is important that patients do extensive research before selecting a board-certified plastic surgeon who understands their individual needs prior to scheduling surgery dates at an accredited surgery center.
Days After Surgery and Recovery Periods
Once a rhinoplasty procedure has been completed at an accredited surgery center, patients can expect some degree of swelling for the first few days after surgery. Pain medications may be prescribed in order to manage discomfort as well as reduce inflammation. Most physical activities should be avoided in the week following the procedure because they can cause further damage to the nose or result in breathing issues. Swelling may persist for up to six weeks after surgery, during which time patients should still refrain from any strenuous physical activities so that their newly sculpted nose can achieve its most beautiful and ideal shape without any cosmetic issues or breathing problems. With proper care and rest, rhinoplasty patients can look forward to a perfect nose with beautiful facial rejuvenation results in no time!
Rhinoplasty Cost in New Jersey & Philadelphia
The cost of rhinoplasty in New Jersey & Philadelphia can vary greatly depending on the complexity of the procedure, the patient's individual needs, and whether any additional procedures are necessary. Generally speaking, rhinoplasty is a relatively affordable procedure that may be covered by some health insurance plans depending on the case. Patients should consult with their plastic surgeons to discuss financial options such as financing plans so that they can receive their desired results without breaking the bank. We also recommend researching different board-certified plastic surgeons in order to find one who offers competitive rates for rhinoplasty procedures in both New Jersey and Philadelphia.
Why choose the Doctors at Becker Plastic Surgery
Kirk Lozada, MD, FACS
Daniel Becker, MD, FACS
Nicole Schrader, MD, FACS
Pick one of our 6 convenient locations
for Your Plastic Surgery Needs
Faqs about Rhinoplasty
Does insurance cover rhinoplasty?
If you need nose surgery to correct a breathing problem, insurance may cover it. Be prepared to work with your physician's office to get the documentation submitted correctly, and check your policy carefully before proceeding.
I'm nervous because there is no "undo" on this procedure. What will I look like?
The surgeons at Becker Plastics do not advise making radical changes to your nose. Your surgical results will be subtle. We can also take your photo and review it using advanced modeling software to give you an idea of your results.
I'm also thinking about braces to correct an underbite. What should I do first?
A prominent chin can make your nose look too small for your face. If you are getting braces to correct your bite and you may need to realign your jaw, consider waiting on your rhinoplasty until you know what your final chin alignment will be. A successful rhinoplasty will affect facial balance. 
I'm prone to sunburn. Will that make a difference? 
If your skin is ruddy and prone to scarring, you can still be a candidate for rhinoplasty but you may have to take more precautions after your procedure. Avoiding exercise and sunlight for a while after your surgery is critical.
What rhinoplasty office is near me?
If you live in the states of Pennsylvania or New Jersey, Becker Plastic Surgery offers rhinoplasty among its services. For a full list of services, please visit our Locations page.