Rhinoplasty in New Jersey & Philadelphia
The term "rhinoplasty" refers to a surgical reshaping of the nasal structure. A plastic surgeon manipulates skin, bone, and cartilage to create permanent cosmetic changes that will improve facial balance and aesthetics. This procedure can be performed in any of our facilities in Philadelphia, Voorhees, Princeton, or Yardley. Contact us for more information or to get started.
Being unhappy with your nasal tip or complete nose can make it very difficult to feel confident in any aspect of your appearance. Rhinoplasty, or nose reshaping, can make it easier to feel good about how you look overall and help with a deviated septum which may also make it easier to breathe. The professionals at Becker Plastics in Philadelphia and New Jersey are excited to help you start the conversation about this critical change.
What is Rhinoplasty?
The term "rhinoplasty" refers to a surgical reshaping of the nose. A rhinoplasty surgeon manipulates skin, bone, and cartilage to create permanent cosmetic changes that will improve facial balance and aesthetics. If you are wondering does rhinoplasty help breathing? Yes, this surgery can also involve reshaping the interior of the nose to improve a person's ability to breathe.
Those who undergo the procedure in our Philadelphia or New Jersey facilities will participate in a detailed consultation with dr Becker to discuss a number of different factors, including:
The condition of the skin
The optimal percentage of bone removal
Changes in cartilage shape
Preparatory steps
Recovery and risks
Before your procedure, you will need to share information about your overall health and any medications and supplements you're taking. Your appointment will also include a discussion of your goals and expectations for this surgery. Having healthy expectations is key to a successful and comfortable surgery.
How is Rhinoplasty Performed?
Your procedure can be performed in any of our facilities in Philadelphia, Voorhees, Princeton, or Yardley. Once you get to our office, your skin will be cleansed and you will receive a local anesthetic, which will numb your face entirely. You may receive an IV anesthetic or general anesthesia as well, depending on the complexity of the procedure and your preferences.
Cuts will be made inside your nostrils to allow the surgeon access to your nasal bones. You may not need any more incisions than those on and in your nose.
However, if more cartilage is needed, you may need incisions made in your ears. The more incisions you need, the longer your healing process will be. The surgery is generally complete within two hours, but complicated surgeries can take longer.
Prior to surgery, you will be given detailed instructions on:
Changes in habits and medications prior to the surgery
Recovery, including transportation home and support when you get there
Be extremely careful to follow these instructions closely. Some people can suffer from dizziness after anesthesia. You should not be alone after any anesthetic.
Who is A Good Candidate for a Nose Job?
A good candidate for this procedure will be an adult in good health overall. If you are on any medications or supplements that put you at risk of excess bleeding, you must be able to stop taking them for ten days to two weeks without severe risk to your health.
You should also have realistic expectations of what the surgery can and cannot do. It is neither possible nor healthy to undergo surgery to look like someone else.
Instead, you should be prepared to look like the best version of yourself. If your nose detracts from your sweet smile or your bright eyes, an open rhinoplasty surgery or closed rhinoplasty surgery should remove that distraction. Rhinoplasty can help you boost your confidence, and improve your facial balance and shape of the nose, but it will not fix everything.
Rhinoplasty Recovery
You will want to clear your schedule for at least two weeks after your rhinoplasty procedure in Philadelphia or New Jersey. For the first few days, you will need to rest with your head above your chest to reduce swelling and bruising, the doctor will prescribe pain medication in case you continue to feel pain. Your nose may be in a splint for a time, and it may be packed to reduce bleeding.
To prepare for your procedure, have several button-front shirts laundered so you don't have to pull garments over your head. Be ready to avoid exercise for at least two weeks, and leave your glasses off so they don't put pressure on your nose.
Stick with soft foods at first to avoid chewing too much and be gentle when brushing your teeth. Make sure to avoid the sun during this time.
There will be some bruising and swelling to contend with after your surgery. A cold compress or ice pack on your upper cheeks and eyes may help. However, if you are instructed to ice your face, make sure you:
Place a cloth between the ice and your skin to avoid frostbite
Use a timer so you do not fall asleep under the ice pack
Use frozen peas or something else light and flexible to avoid putting too much pressure on the surgery site
You may notice numbness or high sensitivity on the nasal tip. Be aware that your nose may take up to a year to settle into normal sensations after your rhinoplasty. Residual swelling might also take a long time to subside.
Patient Results
Hundreds of satisfied patients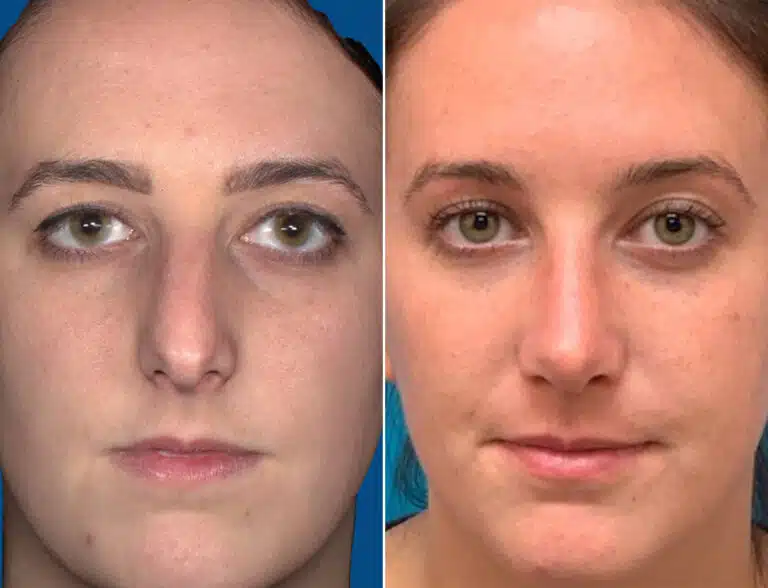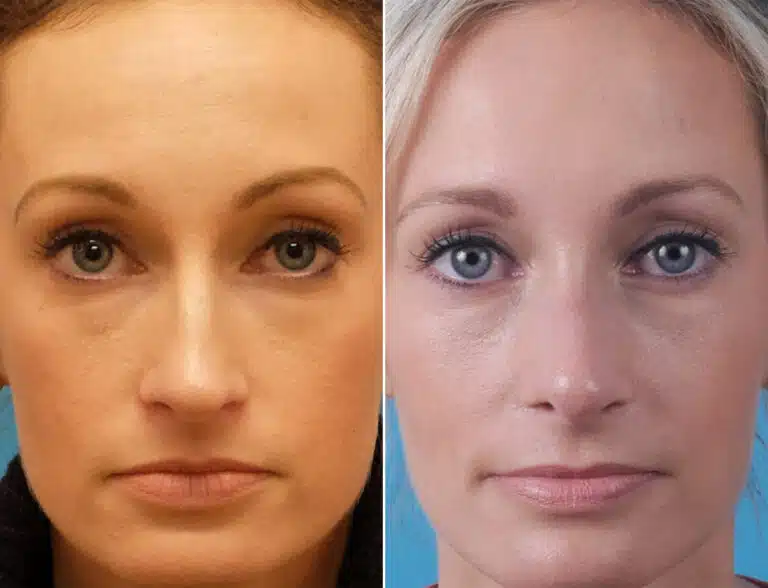 * All patients are unique and individual results may vary.
Complementary Procedures to A Nose Surgery
While getting a nose job, you may be interested in other procedures to improve your confidence in your appearance. As you take the focus off of your nose, you may want to consider mentoplasty, or chin surgery, to better balance your facial features.
You may also want to brighten the skin around your eyes by undergoing micro needling to boost collagen, or by getting a light chemical peel. While you may not be able to undergo these procedures all on the same day, you may be able to get them done within a few days of each other so any recovery can happen at the same time.
Faqs about Rhinoplasty
Does insurance cover rhinoplasty?
If you need nose surgery to correct a breathing problem, insurance may cover it. Be prepared to work with your physician's office to get the documentation submitted correctly, and check your policy carefully before proceeding.
I'm nervous because there is no "undo" on this procedure. What will I look like?
The surgeons at Becker Plastics do not advise making radical changes to your nose. Your surgical results will be subtle. We can also take your photo and review it using advanced modeling software to give you an idea of your results.
I'm also thinking about braces to correct an underbite. What should I do first?
A prominent chin can make your nose look too small for your face. If you are getting braces to correct your bite and you may need to realign your jaw, consider waiting on your rhinoplasty until you know what your final chin alignment will be. A successful rhinoplasty will affect facial balance. 
I'm prone to sunburn. Will that make a difference? 
If your skin is ruddy and prone to scarring, you can still be a candidate for rhinoplasty but you may have to take more precautions after your procedure. Avoiding exercise and sunlight for a while after your surgery is critical.
What rhinoplasty office is near me?
If you live in the states of Pennsylvania or New Jersey, Becker Plastic Surgery offers rhinoplasty among its services. For a full list of services, please visit our Locations page.
Your Nose Job Consultation
Be very upfront with your surgeon during your consultation in Philadelphia or New Jersey to make sure that you fully understand all of the requirements for rhinoplasty. Share information on any medications or supplements that you use regularly so your surgeon can check for any dangerous interactions or excessive bleeding.
It can be very hard to discuss concerns about your appearance, especially if they have long been a source of frustration or embarrassment. However, your consultation is the time to speak up and share your goals for this procedure, so the doctor works on your surgical plan. Again, the key for the Becker Plastics team is to help you look like the best version of yourself.
Rhinoplasty won't necessarily give you a new lease on life, but it could greatly increase your satisfaction in your appearance for years to come. To make sure that you go into the procedure with a healthy understanding of the results, contact Becker Plastics for a conversation about the rhinoplasty procedure. Our talented staff in Princeton, Yardley, Voorhees, and Philadelphia looks forward to meeting you.
ADDRESS:
256 Bunn Drive, Suite B
Princeton NJ 08540 US
PHONE:
(609) 874-7199
HOURS OF OPERATION:
Monday – Friday: 8 a.m. to 5 p.m.
Why choose the Doctors at Becker Plastic Surgery
Nicole Schrader, MD, FACS