Silhouette InstaLift in New Jersey & Philadelphia
Lose the sag without the drag of invasive procedures. Elevate your beauty with the Silhouette InstaLift at Becker Plastic Surgery, available in New Jersey and Philadelphia. Achieve a refreshed, youthful appearance in under an hour, all with minimal downtime. Step into a new era of age-defying solutions and bask in the confidence your rejuvenated look brings!
Instantly Age-Reverse through InstaLift Benefits
Is the mirror reflecting an older version of you that you're not ready to see? Turn back the clock without going under the knife with Silhouette InstaLift. This revolutionary procedure offers immediate lifting and gradual collagen regrowth for natural-looking results. With no invasive surgery and minimal downtime, InstaLift is the ultimate solution for those seeking both immediate and enduring youthful rejuvenation.
1
Immediate Lifting
Why wait? See a lifted, more youthful face right after your InstaLift procedure, making you ready for any occasion in no time.
2
Natural Collagen Growth
InstaLift doesn't just offer a temporary fix. It stimulates your own collagen production, creating long-lasting natural beauty from within.
3
Minimal Downtime
Your time is precious. With InstaLift, you'll be back to your regular activities quickly, enjoying the benefits without the long recovery period.
Most people have certain aspects of their faces that they do not like. While they may decide to live with small imperfections, other features change with age, creating issues like sagging skin on the neck or cheeks. If you are unhappy with the age-related facial changes you've seen, there's a new non-surgical rejuvenation procedure performed by Dr. Becker in New Jersey and Philadelphia: the Silhouette InstaLift.
Patient Results
Hundreds of satisfied patients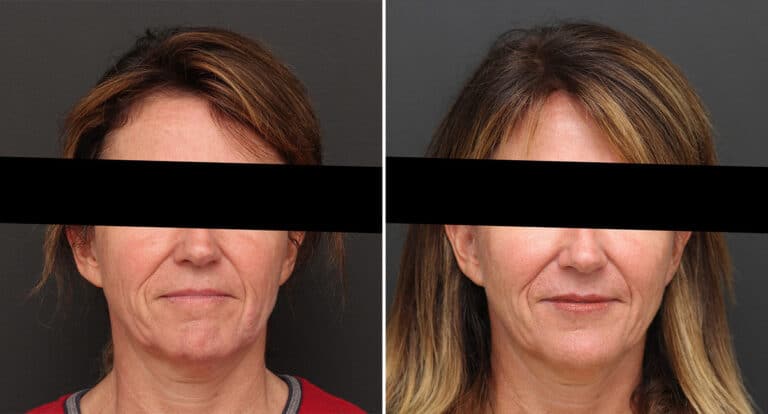 * All patients are unique and individual results may vary.
What Is A Silhouette Instalift and How Does It Work?
Traditionally, a facelift involves making incisions in the lower face near the ears and the upper face near the temples to lift and tighten facial muscles that have become slack. The procedure is often accompanied by liposuction and other techniques to refresh and rejuvenate the patient's face. Patients report that the worst thing about this procedure is that they are unable to smile, chew or talk comfortably for a few weeks.
With the Silhouette InstaLift, the recovery period is much easier and the procedure is much more convenient. No incisions are made, making it a minimally invasive facial rejuvenation treatment.
During the procedure, sutures with tiny cone-shaped barbs on the end are used to pull sagging skin and muscles upward and hold the skin and muscles into place in the new position. You will not see or feel the barbed cones, and the sutures are completely absorbed by the body over time. The results are quite dramatic for something that is relatively simple and easy to complete.
InstaLift Recovery
The Silhouette InstaLift does result in mild inflammation after the procedure, but there's no real downtime. You could take a day off to have the procedure done and rest.
If you really don't want to go back to work the next day, it's a good idea to have the procedure done on a Friday. Then you have a few days for the inflammation and bruising to settle down.
Some patients take a week of paid vacation after the treatment, but that's really not necessary unless you don't want people to know that you have had a cosmetic procedure. If you are traveling to visit our offices, you may want to take a couple of days off just for travel time.
Essentially all the aftercare you need involves:
Icing the slightly swollen areas of your face.
Taking ibuprofen to control inflammation and to ease any pain.
Keeping the areas where the sutures went in clean. This includes no makeup for at least 24 hours to avoid infection.
Sleeping upright the first night or two to reduce swelling.
Avoiding hard or chewy foods for a few days after the procedure.
Avoiding strenuous activity and blows to the face so that the sutures don't come undone.
Following any additional instructions given by Dr. Becker to ensure the best possible outcome.
The results of a Silhouette InstaLift are temporary but can last up to three years before you would need to repeat the procedure.
Who's a Good Candidate for an InstaLift?
As with any cosmetic procedure, some patients are better candidates than others. With regards to the Silhouette InstaLift, the best candidates have mild to moderate facial drooping, mild neck and chin drooping, some remaining skin elasticity (although poor skin elasticity isn't going to typically bar you from this procedure), and be younger than 80. Older patients may need fillers to amplify the effects of the InstaLift or may want to consider surgery instead.
Follow-up Procedures after InstaLift
Everybody is different. Your InstaLift results will last anywhere from six months to three years depending on your age, weight gain or loss, collagen production in the skin, etc. As the thread sutures and cone-barbs dissolve, the skin and facial muscles that were pulled taut will gradually relax again.
You may repeat the InstaLift procedure, but Dr. Becker may recommend other procedures if it appears as though you are no longer a good candidate for an InstaLift. You will need to discuss this with him at length when your first InstaLift mid-face lift fades.
At some point, some patients do decide to opt for a more permanent facelift procedure, such as a mid-face or lower facelift surgery, which provides longer-lasting results. A full, traditional facelift is now reserved for patients who cannot achieve their desired results with any other facelift options.
Why Choose Dr. Daniel Becker
Dr. Daniel G. Becker is a world-renowned, board-certified plastic surgeon and ENT (Ear, Nose, and Throat) doctor. His expertise includes:
Dr. Becker is a highly skilled professional who listens to the needs and desires of his parents and helps transform their lives. He is one of the top facial surgeons in the country and can help patients with complex cosmetic concerns reach their goals with facial surgery or non-surgical procedures.
Why choose the Doctors at Becker Plastic Surgery
Kirk Lozada, MD, FACS
Daniel Becker, MD, FACS
Nicole Schrader, MD, FACS
Pick one of our 6 convenient locations
for Your Plastic Surgery Needs
Instalift Faqs
What are some potentially negative side effects of InstaLift?
The facial skin might dimple or pucker after the procedure, but this usually resolves once the swelling goes down. If these imperfections remain, they will dissipate over time when the sutures are absorbed by the body. Most patients like the idea of extra dimples, but it depends on the person.
What happens to the cheeks as the skin heals?
Facial skin responds to these procedures by producing collagen, the skin's natural elastic fibers. Increasing collagen is a bonus for older skin which often loses its collagen and elasticity due to the aging process.
Can InstaLift reduce the appearance of sagging neck skin (a.k.a., "turkey neck")?
Yes, the procedure can absolutely be used on the neck skin!

How much does InstaLift cost?
The range starts at about $1500 but can cost closer to $4,000 for many patients. If you add other minimally invasive procedures such as dermal fillers, the cost goes up. Dr. Becker and his staff can give you a better idea of what it will cost when you come in for your consultation.
Can I finance my Silhouette InstaLift procedure?
Yes! There are a couple of different ways you can do this. Just ask our billing specialist. We work to make cosmetic procedures affordable for all our patients.
What Silhouette InstaLift office is near me?
If you live in the states of Pennsylvania or New Jersey, Becker Plastic Surgery offers Silhouette InstaLift among its services. For a full list of services, please visit our Locations page.