Blepharoplasty is a cosmetic eyelid surgery that can help correct uneven eyelids and restore a more youthful and symmetrical appearance. This surgery addresses drooping eyelid skin, bags, and excess fat tissue in the upper and lower eyelids, resulting in a rejuvenated and balanced look. In this article, we will discuss what causes uneven eyelids, the diagnosis process, and how blepharoplasty in New Jersey can help fix this issue.
What are Uneven Eyelids?
Uneven eyelids can be a bothersome facial feature for many people. This condition occurs when the upper or lower eyelids (or both) appear different in size, shape, or position. Upper eyelid asymmetry may cause difficulties in applying makeup or wearing contact lenses. In some cases, it can also cause functional problems, such as impaired vision or eye strain.
Uneven eyelids can present in various forms, including differences in eyelid creases, skin folds, or the position of the upper and lower eyelids. The degree of asymmetry can range from mild to severe and can affect one or both eyes. Uneven eyelids may be a natural facial feature, or they may develop for other reasons.
Causes of Uneven Eyelids
Several things can contribute to the development of uneven eyelids. Some of the most common causes include:
Aging
As we age, the skin and muscles around our eyes can lose elasticity and strength, leading to droopy eyelids. Aging can also lead to a shift in the fat deposits around the eyes, contributing to the appearance of uneven eyelids. This natural aging process can cause the eyelids to appear uneven and may result in functional issues as well.
Lifestyle choices such as sun exposure and smoking can exacerbate the natural effects of aging, making it important to take proper care of your skin and overall health. Addressing the effects of aging on your eyelids through cosmetic procedures like blepharoplasty can correct facial asymmetry and give you a refreshed and more alert appearance.
Medical Conditions
Certain medical conditions can contribute to asymmetrical eyelids. For example, ptosis is a condition that causes the upper eyelid to droop due to weakened or damaged muscles. Other medical conditions that can lead to uneven eyelids include enophthalmos (sunken eyes), proptosis (bulging eyes), and Bell's palsy (facial paralysis).
Asymmetrical eyelids can also be a congenital (present at birth) issue, such as congenital ptosis or congenital eyelid retraction. These medical concerns should be addressed by a qualified medical professional to determine the most effective treatment options and ensure that any underlying issues are properly managed.
Genetics
Genetic factors can also play a role in the development of uneven eyelids. Some individuals may inherit a predisposition for eyelid asymmetry from their parents or grandparents.
This genetic predisposition may be more pronounced in certain ethnicities. For example, Asian men and women might have the absence or presence of an eyelid crease, which will give the appearance of asymmetric eyelids. In these situations, double eyelid surgery New Jersey is commonly performed to create a more defined eyelid crease.
Understanding your genetic background and how it may contribute to uneven eyelids can help you and your medical professional develop a customized treatment plan to address your unique needs and concerns.
Injury and Trauma
Injuries or trauma to the eye area, such as accidents or surgeries, can cause damage to the muscles, skin, or other structures around the eyes, leading to uneven eyelids. Eyelid asymmetry from scarring, tissue damage, or muscle dysfunction may require specialized treatment approaches, such as eyelid revision surgery or the use of injectable treatments like botulinum toxin.
To restore facial symmetry and improve function, it is important to work with an experienced plastic surgeon who understands the unique challenges posed by post-traumatic eyelid asymmetry and is skilled in advanced eyelid procedures.
Diagnosis of Uneven Eyelids
To determine the cause of uneven eyelids and develop an appropriate treatment plan, a proper diagnosis is needed. The diagnostic process typically involves: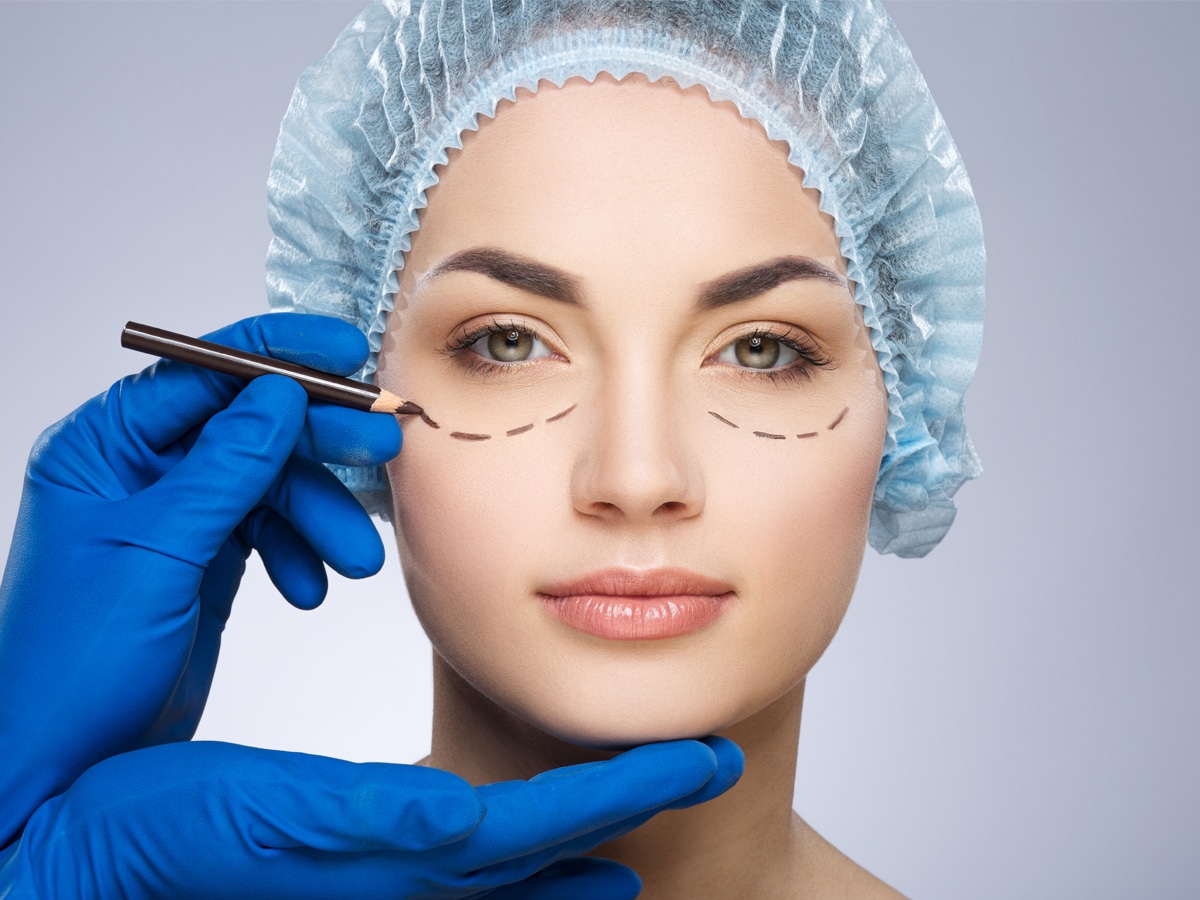 Physical Exam by a Doctor or Dermatologist
A thorough physical examination of the eyes and surrounding structures can help determine the cause of eyelid asymmetry. The doctor will assess the function of the muscles and other tissues in the area along with the size, position, and shape of the eyelids.
Facial plastic surgeons specialize in cosmetic and reconstructive procedures for the face, head, and neck. They have expertise in addressing aesthetic concerns, including eyelid asymmetry. While they focus on the overall facial appearance, they can also evaluate the underlying causes of uneven eyelids and recommend appropriate treatment options.
Imaging Tests (X-Ray, MRI, CT Scan)
In some cases, imaging tests such as X-rays, MRIs, or CT scans may be necessary to evaluate the underlying structures of the eye and surrounding tissues. These tests can help identify any abnormalities or issues that may be contributing to uneven eyelids, such as bone or muscle irregularities.
Blepharoplasty for Uneven Eyelids
Once the cause of the uneven eyelids has been determined, blepharoplasty New Jersey may be recommended. This cosmetic surgery can address various issues related to eyelid asymmetry, including excess skin, muscle weakness, and fat deposits.
Eyelid Surgery Procedure
Depending on the patient's specific needs, blepharoplasty can be performed on the upper eyelids, lower eyelids, or both. The procedure typically involves making small incisions within the natural creases of the eyelids to minimize visible scarring. Excess skin, muscle, and fat are then removed or repositioned as needed to create a more symmetrical and youthful appearance.
Recovery Process after Eyelid Surgery
Recovery from blepharoplasty generally takes about two weeks, during which time patients may experience some swelling, bruising, and discomfort. It is essential to follow post-operative care instructions provided by the surgeon, which may include using cold compresses to reduce swelling, taking prescribed pain and anti-inflammatory medications, and avoiding makeup and contact lenses for a specified period.
Potential Side Effects of Eyelid Surgery
Potential risks and side effects associated with blepharoplasty are present, as with any surgical procedure. These side effects may include scarring, infection, temporary changes in vision, or dry eyes. Discuss these risks with a board-certified plastic surgeon before undergoing eyelid surgery to ensure that the benefits outweigh the potential risks.
Talk with a Blepharoplasty Expert
If you are considering blepharoplasty NJ to address uneven eyelids, consult with an experienced and qualified plastic surgeon. The physicians at Becker Plastic Surgery can assess your specific needs, discuss your goals and expectations, and determine whether blepharoplasty is the right treatment option for you. Additionally, they can provide guidance on any necessary pre-operative preparations and post-operative care to ensure a successful outcome and minimize potential risks. Please call (609) 874-7199 or click here and fill out the online contact form to schedule a consultation.
Remember, achieving a more symmetrical and youthful appearance through eyelid surgery is possible if you work with a knowledgeable and skilled expert to ensure the best results.