Dark circles under the eyes can significantly impact a person's appearance, making them look tired and aged. While dark circles have many causes, one effective way to address them is blepharoplasty in New Jersey, also called eyelid surgery. This article will discuss the causes of dark circles, the different types of blepharoplasty procedures, and how they can help reduce the appearance of dark circles under the eyes.
What are Dark Circles?
Dark circles are characterized by the darkening of the skin under the eyes, which can be caused by several things. They are a cosmetic concern for many people, as they can make a person appear tired, stressed, or older than they actually are.
Causes of Dark Circles
Many things can contribute to the development of dark circles, including:
Allergies and irritation: Allergic reactions can cause inflammation and increased blood flow around the eyes, leading to dark circles.
Lack of sleep: Insufficient sleep can cause the skin to appear pale, making the blood vessels under the eyes more visible.
Sleeping position: Sleeping on your stomach or side can cause fluid buildup under the eyes, resulting in puffiness and dark circles.
Excess pigmentation: Some individuals may have naturally darker skin under their eyes due to increased pigmentation.
Aging: As we age, the skin around the eyes loses elasticity and volume, making dark circles more noticeable.
Types of Blepharoplasty Procedures
Blepharoplasty is a surgical procedure that can help reduce the appearance of dark eye circles, particularly when accompanied by under-eye bags. There are different types of blepharoplasty procedures, depending on the specific concerns of the patient.
Lower Eyelid Surgery (Lower Blepharoplasty)
Lower eyelid surgery, also known as lower blepharoplasty, is a procedure that targets the lower eyelid area. It can effectively treat baggy eyelids and dark circles by removing excess skin and fat in the lower eyelid. This procedure can help rejuvenate the appearance of the eyes and reduce the prominence of dark circles.
Upper Eyelid Surgery (Upper Blepharoplasty)
Upper eyelid surgery NJ, or upper blepharoplasty, is a procedure that focuses on the upper eyelid area. It primarily intends to lift saggy or droopy eyelids, which can make a person appear tired or aged. While upper blepharoplasty is not specifically designed to treat dark circles, it can help improve the overall appearance of the eye area.
Combination Upper and Lower Lid Surgery (Full Blepharoplasty)
In some cases, patients may benefit from full blepharoplasty, a combination of upper and lower eyelid surgery. This comprehensive approach addresses both upper and lower eyelid concerns, resulting in a more balanced and rejuvenated appearance around the eyes. Full blepharoplasty can be a particularly beneficial option for select patients who have significant sagging or excess skin in both the upper and lower eyelids, as well as dark circles and under-eye bags.
Benefits of Blepharoplasty
Blepharoplasty offers several benefits for patients seeking to improve the appearance of their eyes and reduce the prominence of dark circles. Some of the key benefits include:
Eliminating Excess Skin Around the Eyes
One of the primary benefits of blepharoplasty is excess, loose skin removal from around the eyes. This can help create a more youthful and refreshed appearance, as well as reduce the dark appearance caused by sagging or drooping skin.
Removing Tear Troughs and Hollows Around the Eye Socket
A lower eyelid lift can also address tear troughs and hollows around the eye socket, which can contribute to the appearance of dark circles. By repositioning or removing excess fat and tightening the skin in this area, the procedure can help create a smoother and improved appearance under the eyes.
Rejuvenating the Eyelid Skin
In addition to addressing excess skin and fat, blepharoplasty NJ can also help rejuvenate the eyelid skin itself. In both types, the eyelid skin is tightened, helping to reduce the appearance of wrinkles and fine lines around the eyes.
Addressing Long-Term Solutions to Facial Aging Around the Eyes
Blepharoplasty not only addresses the immediate concerns of dark circles and excess skin but also provides long-term solutions to facial aging around the eyes. By removing excess skin and fat, tightening the underlying muscles, and repositioning tissues, cosmetic eyelid surgery can help slow down the aging process and maintain a more youthful appearance for years to come.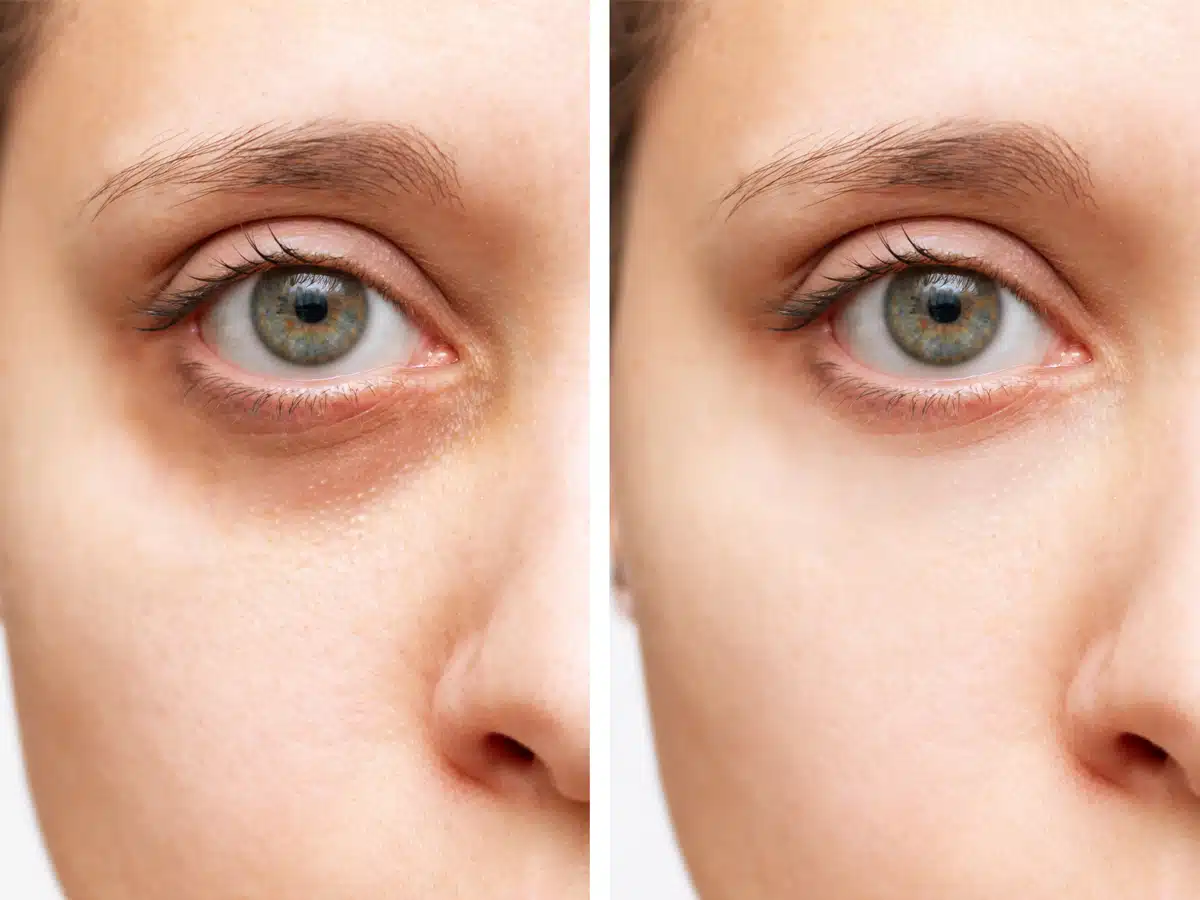 What to Expect After the Lower Surgery
Following lower eyelid surgery, patients can expect some swelling, bruising, and discomfort during the first few days. These symptoms should gradually subside over the following weeks, and most patients can return to their normal activities within 1-2 weeks after surgery. It is important to follow your surgeon's post-operative instructions carefully, including using cold compresses, keeping the head elevated, and avoiding strenuous activities during the initial recovery period.
Potential Risks and Complications of Eyelid Surgery
As with any surgical procedure, there are potential risks and complications associated with blepharoplasty. Some of the most common risks include infection, scarring, dry eyes, and temporary or permanent changes in vision. There is also a possibility of asymmetry or other unsatisfactory results, which may require revision surgery. Discuss the risks at your patient consultation and choose a physician with extensive experience in facial cosmetic and plastic surgery to minimize the potential for complications.
Some Tips for Proper Maintenance after Eyelid Surgery
To ensure the best results and maintain your rejuvenated appearance after eyelid surgery New Jersey, follow these maintenance tips:
Protect your eyes from sun exposure by wearing sunglasses with UV protection and applying sunscreen to the delicate skin around the eyes.
Maintain a healthy lifestyle, including a balanced diet, regular exercise, and adequate sleep to support overall skin health.
Stay hydrated to keep the skin around your eyes looking fresh and supple.
Use high-quality skincare products, including eye creams with retinoids, if you can tolerate them, and antioxidants to support collagen production and minimize the appearance of fine lines and wrinkles.
Avoid smoking and excessive alcohol consumption, as these can contribute to premature aging and skin damage.
Talk with a Blepharoplasty Expert
If you are considering blepharoplasty to address dark circles and rejuvenate your eyes, consult with an experienced and skilled plastic surgeon who specializes in eyelid surgery. With hundreds of satisfied patients, Becker Plastic Surgery in Philadelphia and New Jersey are well-known for their quality patient care and excellent results. They can provide a thorough evaluation, discuss your goals and expectations, and recommend the most appropriate surgical approach to achieve the best results. To schedule a consultation, contact one of our reputable blepharoplasty surgeons.
By choosing a qualified and reputable surgeon, you can feel confident in your decision to undergo blepharoplasty and enjoy a more youthful and refreshed appearance.