Facelift procedures are a popular cosmetic surgery option for those looking to reduce the signs of aging and improve their facial appearance. Plastic surgeons strive to provide patients with minimal scarring, but some visible scars will inevitably occur after a facelift procedure.
During the facelift New Jersey, excess skin can be removed during the surgery and the incisions can be placed in natural creases of the face to help them blend in with the surrounding skin. Additionally, loose skin can be tightened and repositioned as a surgical technique. This will help to create a more youthful appearance while also helping to hide any visible scarring.
Fortunately, there are several ways to conceal these scars and help them blend in with the surrounding skin. In this article, we will discuss different methods for concealing facelift scars so that you can look your best.
1. Makeup
Makeup is one of the most popular methods for concealing scars, as it can be used to cover up any discoloration or unevenness caused by facelift incisions. Makeup can be used to create a more even complexion and help to hide any visible scarring.
Foundation and/or bronzer can be used to connect the dots of the scar, making it appear less noticeable. Highlighting those areas of the face can also be beneficial in helping reduce the appearance of a facial scar. It's important to remember that makeup should not be applied too heavily, otherwise, it will look unnatural against your complexion.
2. Silicone Gel
Silicone gel is a popular option for concealing scars caused by facial surgery or other cosmetic procedure. This treatment involves applying a thin layer of silicone gel to the affected area of the face. It is a topical product that helps stimulate collagen growth under the skin, thus creating a smoother and softer surface for improvement in its texture.
The silicone gel also helps to fill in any unevenness caused by surgical incisions and helps to blend in with the surrounding skin.
Additionally, this method can help to reduce redness and discoloration associated with surgical scars. It's important to note that this method should only be used after the healing process has been completed, as it may irritate if applied too soon after surgery.
3. Botox Injections and Dermal Fillers
Botox injections are a popular choice for those looking to reduce the appearance of facial plastic surgery scars. Botox works by temporarily paralyzing the muscles around the scar, which can help to reduce its visibility.
It is important to note that it may take several months after surgery before you start to see results from Botox injections.
Facial fillers can also be used to help conceal facelift scars without having to resort to more invasive methods. Fillers and injectables can plump up the areas around your scars, making them less noticeable while reducing the appearance of wrinkles and fine lines.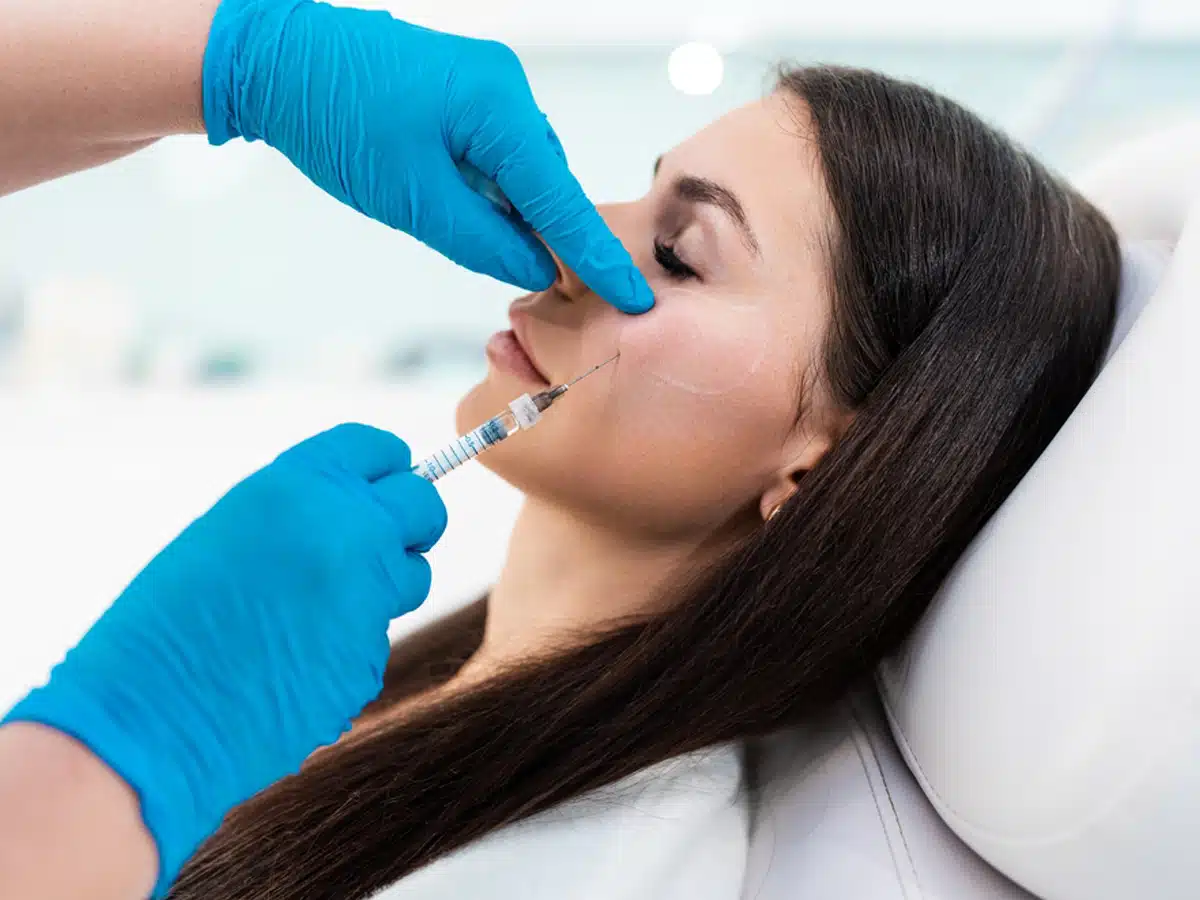 4. Laser Treatments
For New Jersey facelift patients, the appearance of scars is an important factor to consider when deciding on a procedure. Hypertrophic scars and scar tissue can be difficult to conceal and may require additional treatments or procedures. An experienced surgeon will be able to advise you on the best way to minimize the visibility of your scars, such as using laser treatments.
Laser treatments are non-invasive procedures using light energy pulses to target specific areas' damaged cells beneath your skin's surface layers stimulating renovation from within and supplying new healthy cells needed for overall cosmetic improvement.
These treatments are designed to not only diminish discoloration but will plump up fine lines caused by either environmental exposure damage or trauma such as cuts that lead to poor wound closure after surgeries like facelift NJ procedures.
5. Scar Creams & Treatments
Scar creams are one of the easiest ways to conceal facelift scars without resorting to surgery. Scar creams contain ingredients that help lighten their color, flatten raised marks, reduce redness, and shrink their size while providing much-needed hydration.
By doing this consistently over time, it's possible for these cream treatments to greatly reduce the appearance of a scar.
6. Hair Accessories and Headwear
For those who have undergone a short-scar facelift, hair accessories and headwear can be used to conceal the temporal hairline and any associated hair loss. Headbands, hats, scarves, and other fashionable items can be used to cover up the area around the incision site while still allowing for a natural look.
Additionally, these items can help to draw attention away from the scar itself and focus on other areas of the face. With careful styling and selection of accessories, it is possible to reduce the visibility of scars caused by a face lift New Jersey without having to resort to more invasive treatments.
7. Pressure Garments + Camouflage Tape wraps
Scar formation and healing after incisions and surgical procedures is a complex process that involves the body's natural ability to repair itself. Blood flow plays an important role in this process, as it helps to bring oxygen and nutrients to the wound site, allowing for new tissue growth.
Pressure garments and camouflage tape wraps can be used to help promote blood flow to the area, which can help reduce scarring and improve healing time. Additionally, these garments can also provide support for the incision site while helping to conceal any visible scars.
9. Microdermabrasion and Microneedling Therapy
Microdermabrasion is another option for those looking for less invasive methods of concealing their facelift scars. This process involves effectively sanding down patches of skin at varying coarseness levels to soften their texture, smooth them out, and even minimize discoloration around the affected area. It's best for working on lighter scar patterns because its results may vary with darker spots depending on your skin type and the depth of damage being treated.
Finally, speaking of medical treatments, micro-needling therapy involves small needles puncturing certain areas repeatedly to create micro wounds. This stimulates collagen production through an active healing process with minimal disruption over time. This is usually recommended once every 4 weeks depending on each patient's tolerance.
Book an appointment with us!
If you're looking for board-certified plastic surgeons who specialize in facial rejuvenation and facelift techniques, then look no further! At Becker Plastic Surgery, our team of experienced professionals is here to help you achieve the results you desire. Contact us today to book an appointment and get started on your journey toward a more youthful appearance!